The artwork approval process is a crucial part of the graphic design process, as it determines the final look and quality of a project. Unfortunately, many organizations make mistakes during their design review workflow that can lead to subpar results and decreased efficiency. This article will outline seven common mistakes organizations make with artwork proofing and provide tips for avoiding them.
But first, let's talk about some essential aspects of the design review and approval process that we will need to keep in mind while determining mistakes and solutions to them.
Artwork Approval Essentials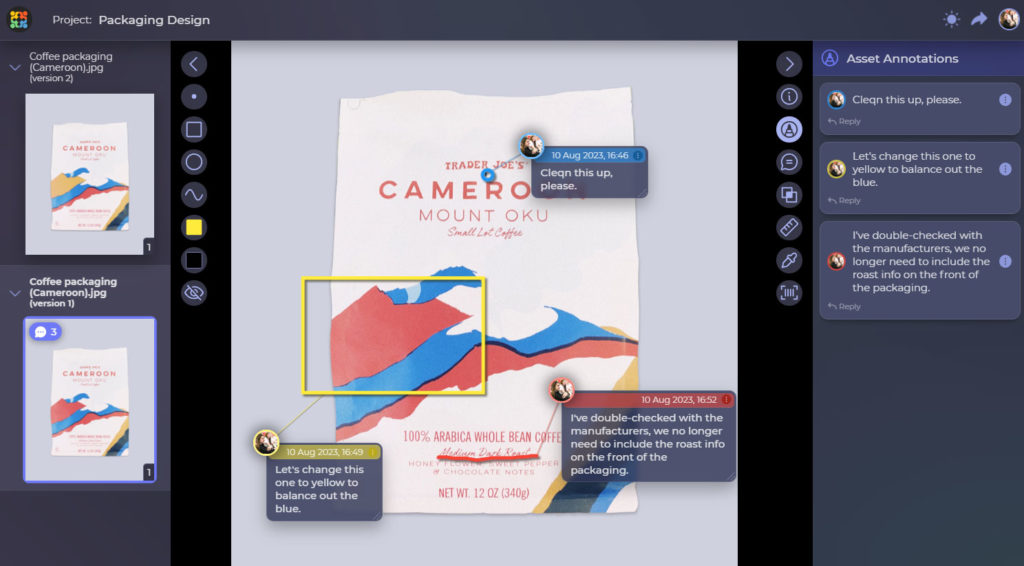 It's important to note that while following the solutions we are about to present will help you avoid common mistakes, artwork review is a complex and multi-faceted process that requires attention to detail and a commitment to quality. By taking the time to consider each step carefully and ensuring that everyone involved is aware of their responsibilities, organizations can create a successful and efficient online approval workflow.
The main point of artwork approval is to ensure that the end product meets expectations and is executed according to the brief. Surely, there may be some changes on the way since the design is a creative industry. However, the ultimate goal remains the same: to make the design perform according to its function. If it's a branding design — attract new customers and make them remember you, if it's a packaging design — provide a useful and stylish cover for your product that will also protect it.
The most essential point I am trying to make is this: everything in the design industry needs to serve a purpose. Imagine you're writing, say, arts & humanities essay for a college project: to provide a good analysis of your topic, you would need to use specific examples and arguments. Design approval follows a similar path of arguments and why-questions so that the design itself could solve a business problem of the client. And if you need help with making sure this is the case in your projects, we know just the tool to use.
7 Mistakes of Artwork Approval
Now that we know the main pillars on which design proofing is built, let's get to the most common issues.
Mistake #1: Not having a clear artwork approval process

One of the organizations' biggest mistakes with the creative review is lacking a clear and defined process. Without a straightforward workflow, it can be challenging to ensure that all parties are on the same page, that deadlines are met, and that quality is maintained. Provided you want to avoid this mistake, you need to establish a transparent creative approval process that outlines the steps involved, the roles and responsibilities of each party, and the timeline for completion. This approach will help ensure that everyone knows their duties and that the process runs smoothly.
Mistake #2: Not using the proper file format

Another common mistake in artwork approval is not using the right file format. Choosing the correct file format can greatly affect the quality and accuracy of the final product. For example, a low-resolution design file format may result in a blurry or pixelated final product. If the best quality is your goal, it's essential to choose the correct file format for the intended use of the artwork. Consider factors such as resolution, color depth, and file size when making your choice.
Mistake #3: Poor communication

Effective communication is crucial for a smooth artwork approval process. Poor design communication can lead to misunderstandings, missed deadlines, and decreased quality. To improve communication during design review, make sure that everyone involved has a clear understanding of their roles and responsibilities. Encourage open and frequent communication and make sure you document all approvals and creative feedback.
Mistake #4: Lack of collaboration

Design collaboration is key to a successful artwork approval process. Without collaboration, it's easy for one person's vision to dominate and overlook iteresting perspectives. Encourage collaboration by inviting all parties involved to provide input and feedback throughout the reviews. Consider using design collaboration tools, online whiteboards, project management software, or team collaboration platforms to facilitate communication and collaboration.
Mistake #5: Neglecting quality control

Design quality assurance is essential to ensure that the final product meets the desired standards. Neglecting quality control during the approval process can result in a final product that is subpar or does not meet the intended performance levels. To incorporate quality control into the artwork approval process, establish quality control measures and procedures, and assign someone to oversee the process. The easiest way to do this is via using creative approval software.
Mistake #6: Not using technology to streamline the workflow

A critical aspect of the approval process is the use of technology. Many tools are available to streamline the process, from project management software to artwork approval software. These tools can help to automate certain aspects of the process, such as tracking approvals and feedback and can also help to improve communication and collaboration among team members. By incorporating technology into their design proofing, organizations can automate design workflow, thus increasing efficiency and ensuring that the final product meets their standards.
If you are not sure where exactly to start with incorporating technology, I'd obviously recommend Approval Studio. We have a free demo session and easy workflows that will save you time, money, and — most importantly — your nerve cells.
Mistake #7: Failing to consider the end user

Another significant aspect of the approval process is the consideration of the end user. The end user is the person who will be using and viewing the final product, so it's essential to ensure that their needs and preferences are taken into account. The best way to do it is by involving the end user in the approval workflow and gathering feedback from them throughout the collaboration process. By considering the end user's needs, organizations can create a final product that is not only aesthetically pleasing but also user-friendly and functional.
Summary
In conclusion, the design review and approval process is a critical aspect of graphic design that can significantly impact the success of a project. To summarize, here are the seven mistakes and their solutions:
Not having a clear artwork approval process — establish a clear strategy with defined steps, roles, and responsibilities.
Not using the correct file format — choose the proper file format based on resolution, color depth, and file size.
Poor communication during the approval process — encourage open and frequent communication, and document all approvals and feedback.
Lack of collaboration during the design review — invite all parties involved to provide input and design feedback, and consider using online collaboration tools.
Neglecting quality control during the approval process — establish quality control measures and procedures, and assign someone to oversee the process.
Not using technology to streamline the design approval — consider automating parts of the workflow to improve communication and design collaboration.
Failing to consider the end user — involve the end user in the approval process and gather feedback from them.
By following these solutions, organizations can ensure a successful and efficient design approval process and a high-quality final product that meets the needs or exceeds the end user's expectations.