Howdy, folks! We continue our series of comparison articles, and in this one, we're about to discuss the cloud-based design proofing tool GoProof and compare it to Approval Studio. Features, cost, benefits, drawbacks – I tried to compile everything and create as objective and honest review as possible.
What is GoProof?
GoProof is a graphic asset approval tool created by British software developer Oppolis that was established in 2003 in Telford. The company offers several other services, but GoProof is their flagman. I must admit, the company knows its industry, and its software has many cool features. The main drawback – getting additional information about the tool is quite problematic since there are very few reviews, and GoProof pricing is still not provided on the official website since the time I last updated this review and until now. Anyway, enough of the chit-chat, let's check what they have on the table and if there are any updates!
GoProof Features
Well, let's get straight to the updates. They are rather hard to track as I didn't find any release notes on the website, and the blog posts seem to be pretty old and do not have the post date displayed on them. Pretty inconvenient.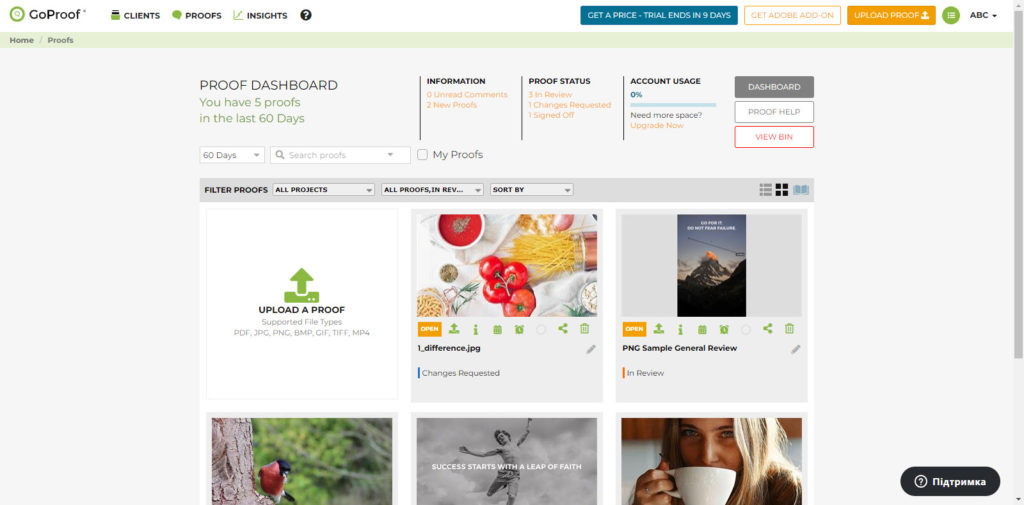 The tool's home page is divided into several sections: Clients, Proofs, Activity Timeline, and Insights. Above, you can see a screenshot from the gallery-like Proofs page, where you can arrange your files and projects.
On the upper side of the page, there is some statistical information about all your proofs and account usage, which is pretty convenient.
Account managers can add an unlimited number of collaborators to their teams. At first, it is a bit complicated to understand which menu tab adds which users – clients, collaborators, etc., but it's possible to get used to it with time.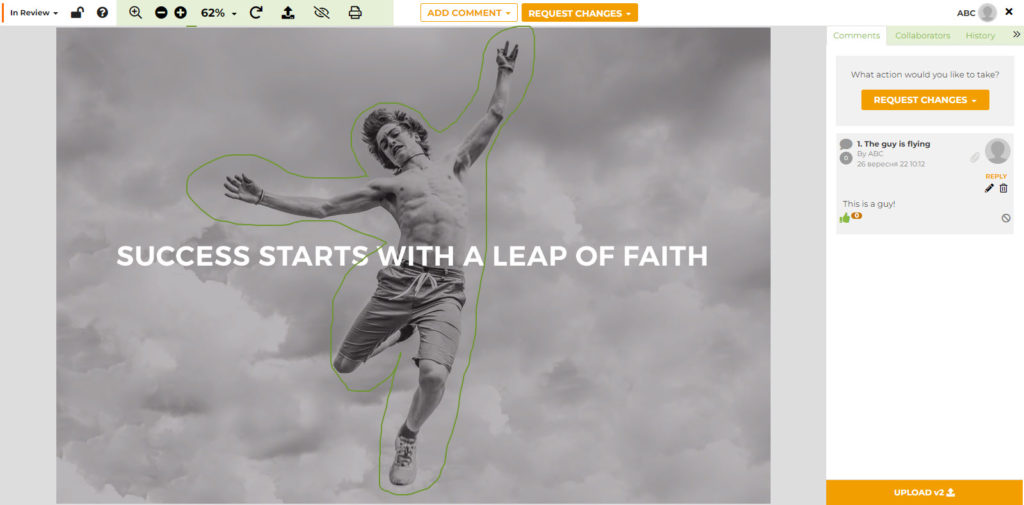 The proofing tool does not reduce the size of your images or documents and allows you to zoom them without any quality losses.
The widest range of mark-up tools ever: Push pin, Box, Ruler, Strike (a special tool for removing text), Highlight, Tick, Cross, Arrow, Question mark, Draw, and Range for video files. There's no chance that any comment will be misunderstood, but, at the same time, I'm not sure if it is not too much. Anyway, I reckon it's rather a matter of taste and need.
The proofing tool supports real-time communication in comments, making getting feedback much easier.
The weak spot of the tool is its compare mode. Simply put, there is only one button by pressing and releasing which you can toggle-switch between two versions. Also, you can open the previous version and the new one in the new window and compare them manually, which is not giving you much insight if you don't look hard enough.
There is a time-tracking feature called Insights. It allows designers to put time records whenever they apply any change, but it will be available only via the GoProof Adobe CC add-on. Furthermore, you can print proof reports together with all comments on each file. One more reporting tool called Spotlight allows you to check overall project and client activity with all time spent and export this info to CSV.
The main benefit of GoProof is its Adobe integrations, namely the Adobe Creative Cloud add-on, which comes free with a proofing tool. It is a great option for designers who can save time without buying Adobe digital products separately. However, at the same time, it might be the exact reason why GoProof does not indicate its pricing on the website. More so, the last time the plug-in was updated was in the year 2019, three years ago, which means it doesn't get much attention from the devs.
The Pros and Cons of GoProof
Pros: stats at the main page, the widest mark-up tools range ever.
Cons: updates are not regular, almost no compare options, user management is a bit inconvenient, and pricing is not specified.
GoProof vs Approval Studio: comparison table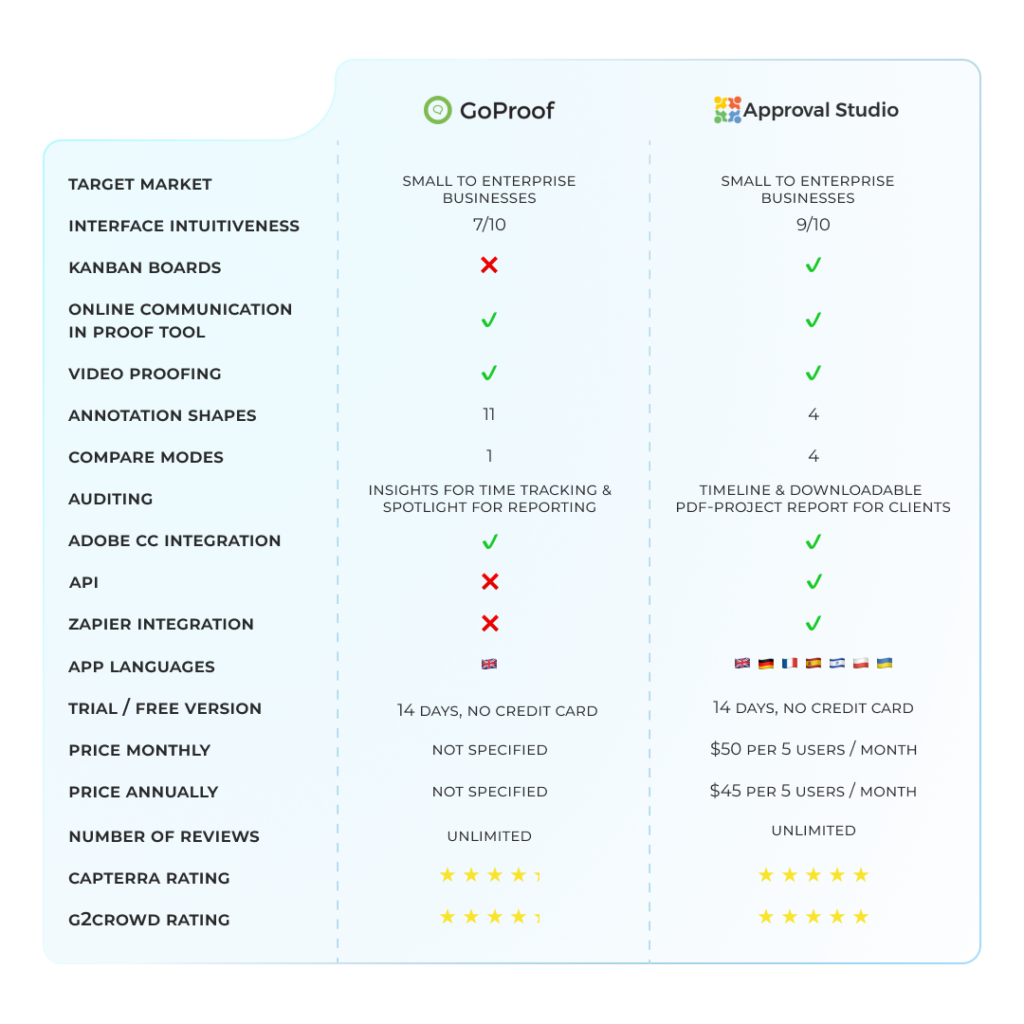 Why choose Approval Studio?
Approval Studio is a little bit simpler than GoProof, but that doesn't mean it can't stand a chance against a bigger brother. As Leonardo da Vinci said, "simplicity is the greatest sophistication", so we definitely have some strong features to make it to the list of the best GoProof alternatives, have no doubt!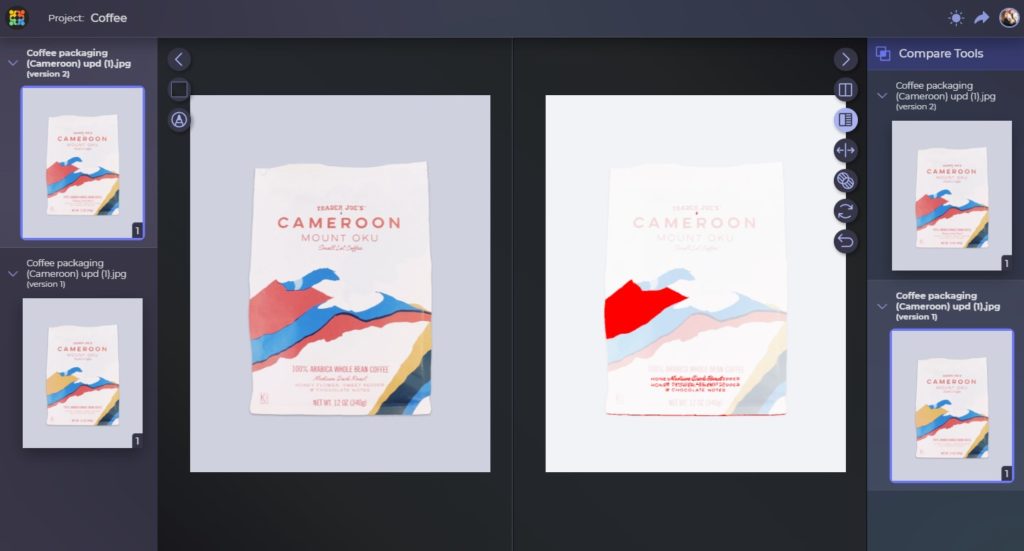 Here we go with our strongest card – Compare mode, which you can see in the screenshot above. "Side by side" with two panels for each iteration, "Fader" for a dynamic shift between versions, "Difference" that will show only the changes applied to the picture, and "Toggle" switching from one iteration to another – these four comparison options are unique and outrun GoProof's compare features for miles.
As well as with Ziflow, one more GoProof competitor, Approval Studio's Kanban-style dashboard is more user-friendly and far easier to navigate.
Both apps have the option of adding internal and external reviewers, but GoProof relies exclusively on email, while Approval Studio provides a possibility to invite external approvers via a quick link, which means you do not have to send a separate invite to everyone. It significantly improves teamwork.
Similar to GoProof, our Review Tool has a perfect zoom that does not reduce the quality of the image. Equal sign here for both products.
Online chat-a-like discussions in the proofing tools of both apps result in one more tie. I bet creatives in your team should be happy about such collaborative opportunities! 🙂
Approval Studio offers 4 different annotation shapes – point, circle, square, and a free form. This is less than GoProof has, but it does not decrease Approval's functionality. Regarding versatility, we can offer something Oppolis' product doesn't have – the ability to attach one annotation to two or more similar issues in different artwork places. Hiding annotations from external reviewers is something else I did not find in GoProof.
Auditing is one more part where the winner can be defined primarily by personal taste: Approval doesn't provide a time-tracking function, but reports by GoProof are scattered in different places, which makes them much harder to manage and share. Besides, we offer reports pulled out specifically for customers without any excessive info that you first need to sort. Easy to check, easy to use.
Integrations look similar at first glance: both apps have Slack integration and Adobe CC extension. However, Approval Studio releases regular updates for the extension and the tool, while the last time GoProof updated their add-on was pretty long ago. Besides, Approval Studio has a full-on integration with Zapier.
Final Thoughts
So, in a nutshell, GoProof is definitely bigger in its scale, but, as I've mentioned before, Approval's proof tool is equally good in terms of … scaling. I mean, zooming. Eh… You know, never mind. I hope you will excuse my poor sense of humor and try both tools on your own to let us know which one you prefer ☺
Our main concept is getting better every day and becoming the best in our field, so your opinion is very important to us! Let us know if you want to schedule a free demo session to help you make your final decision.
Good luck!