Okay, after sunny Australia we decided to change our route completely and move to a different part of the world. Now we are going to Laval, Canada! And no, it's in no way a coincidence or anything – as you know perfectly well, our trips are not spontaneous but thoroughly planned.
This time we are going to check out the next one of our competitors – Review Studio. As usual, we will check the benefits and drawbacks, features, pricing, and many other characteristics of both tools. Let's go digital one more time and see who's worth their cost!
What is Review Studio?
Review Studio is truly a dinosaur of proofing services – it was started in 2006 and developers did everything possible to make their tool stand out. Did they succeed? Yes. On the market of cloud-based software for creatives and team collaborative work, Review Studio earned its place beneath the sunshine. The reason how it all started was quite simple – as their website says, the dev team themselves were facing problems with "coordinating the media review and approvals on a major studio production involving teams spread over many locations and time zones".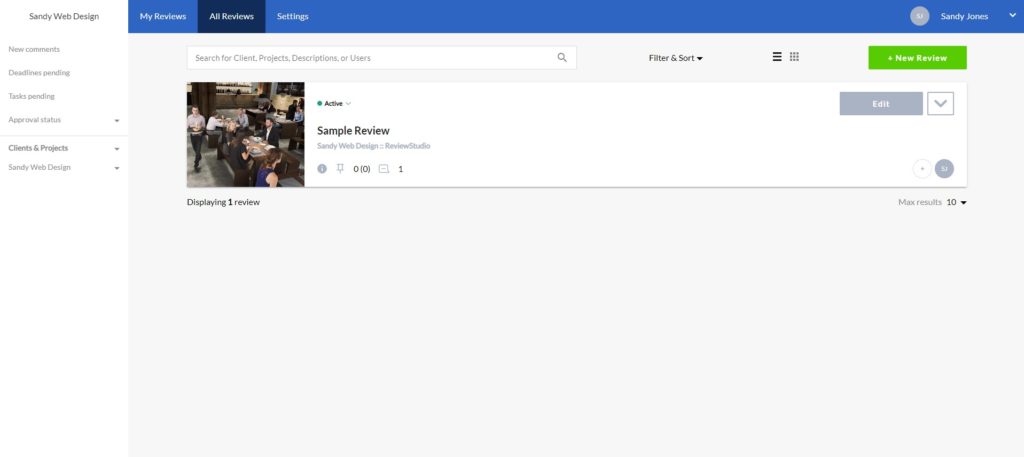 Review Studio Features
When you create an account in Review Studio, your company is given its own web page with a project gallery to which you can create personalized branding. On your dashboard, you can see your reviews and all the reviews of your company. The sample project you see above provides PDF, MP4, and JPEG files already with annotations so that you can see how the system works straight away.
The number of guests you can share the file with for external review of your graphic file is not limited. However, the simplest Pro plan can provide only up to 10 active reviews for 1 user only.
The image/document file types supported are JPG, PNG, GIF, TIFF, SVG, DOC(X), PPT(X), XLS(X), and PDF. Additionally, there are many different video and audio file formats.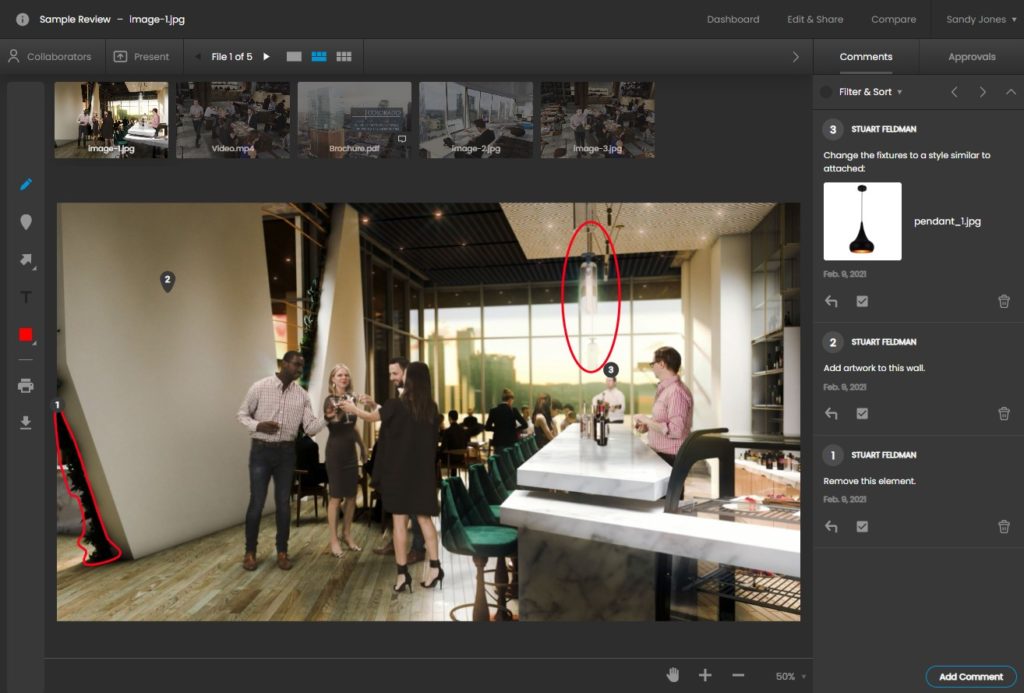 The review tool is pretty peculiar and differs a bit from everything we've seen before. The thing is that if you have several different files in your review, you will see all of them at once with the ability to switch between them in the upper panel. If your file has multiple pages or it is a video, you can switch between the marks on the panel below.
Review Studio is the first review tool that added 360 panoramic image reviews, which is perfect for architects, real estate agents, and 3D artists.
The markup possibilities for getting feedback are quite impressive. Review Studio provides a brush tool, note tool, text tool, and shape tool. Shape tool includes arrow (one- and two-sided), line, square (filled and empty), and circle (filled and empty). As for text, it is applicable only to PDF and includes highlight, strikeout, replace, and insert mark-up types.
The tool provides the possibility to organize group live reviews, which enables live discussions in the comments. Also, it is possible to hold live presentations where all actions are made by a presenter who can use a special laser tool for assistance.
Comments to the picture can be turned into tasks and assigned to one of your team members, but remember that the Pro plan we are discussing is for a single user. Also, there's an ability to filter and sort the comments by user, date, and timecode (for video and audio).
For some reason, I have not found any Approve/Reject buttons. Is this a paid feature here as well as in GoVisually?
There is one comparison regime that allows you to check the versions of your choice side by side, but does not highlight any differences, which means you still have to use your eye and memory or rely on annotations from previous versions to check what was changed.
In terms of auditing, Review Studio provides only Review reports that give an accurate representation of all actions completed within each item in the Review tool. However, I have not found any system that would track other actions such as project creation, task assignment, file/version upload, etc.
The Pros and Cons of Review Studio
Pros: a variety of file formats for video and audio proofing, lots of annotation shapes, live review presentations.
Cons: weak reporting feature, comparison regime does not highlight differences, no approve/reject buttons, a small number of integrations.
Review Studio vs Approval Studio: comparison table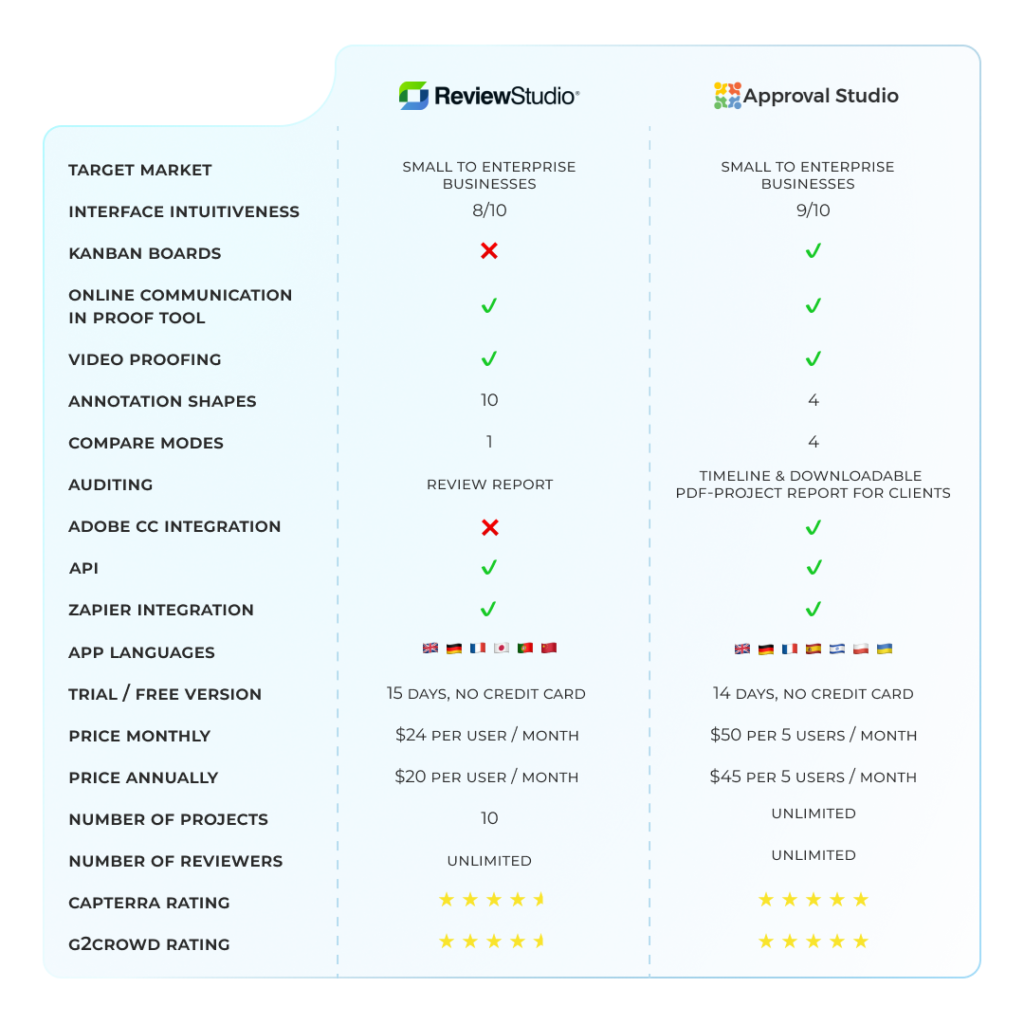 Why choose Approval Studio?
Approval Studio is a Review Studio alternative that offers a range of features that are significant for successful project management but are not present in Review Studio.
A bit more user-friendly interface with Kanban dashboard that separates all the projects and all the files within them so that you can access each one in the review tool separately.
Right in the project menu, you can see project history, which gives a detailed list of all actions completed within the project. See it yourself in the screenshot below.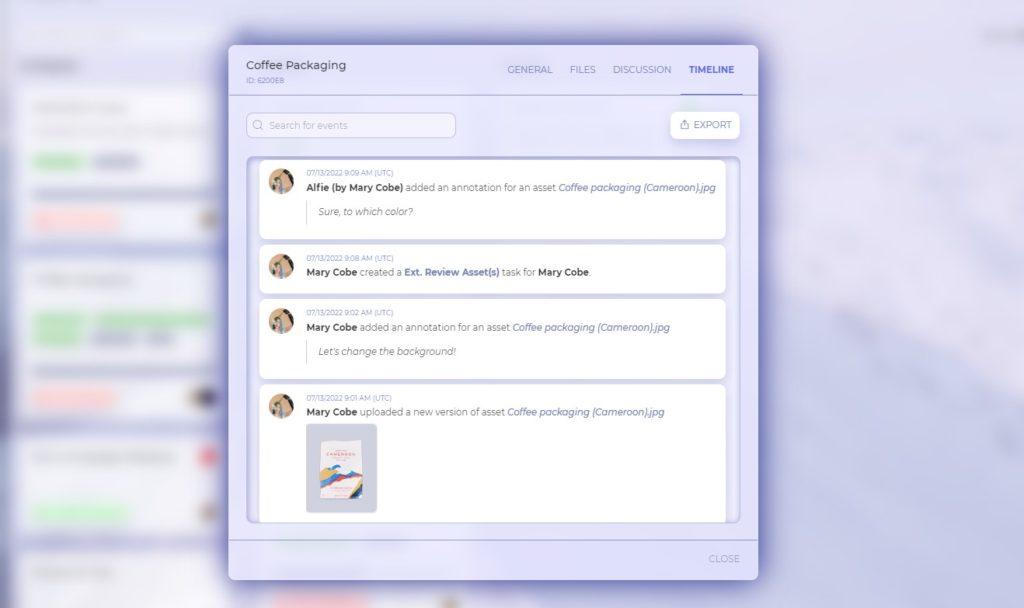 Furthermore, you can generate a proof report for each file and a full project report specifically for the customer. These reports include all actions as well and can be used for workflow analysis and further project planning.
Although we only support one video file format (mp4) for now, Approval Studio supports a variety of other file formats like TIFF, JPEG, GIF, BMP, PNG, AI, PDF, etc.
The number of reviewers and projects is not limited in any way.
Approval Studio has 4 shapes for mark-up – point, circle, square, and a free form. An important note: all comments in our review tool are "attached" to their annotations, and you can see them both on the right panel and in the images. Therefore, you can move them to any point on the screen, and they still will remain attached so that you will always know which comment refers to which annotations. Instead of such things as a double-sided arrow, we offer the ability to attach one comment to multiple places, which is considerably more convenient.
All chats in the comments are live similar to Review Studio, so there isn't much of a difference in terms of teamwork.
If you want to accept or reject your artwork, there are appropriate buttons up above in the review tool.
Our comparison modes allow locating any edit applied in the ongoing cycle within seconds. Altogether, we have 4 of these – Side-by-side with a difference highlighter, Fader that overlays one version with another, Difference that shows only the elements that were changed, and Toggle that switches from one version to another dynamically. Spotting change is as easy as it has never been. None of Approval Studio's competitors has alternatives to these modes.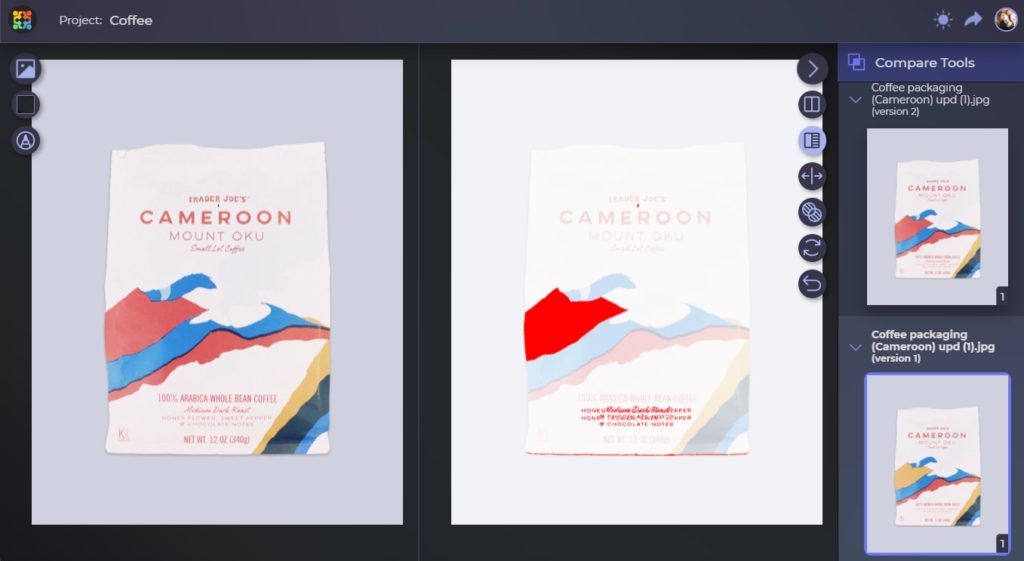 Final Thoughts
So, what are your thoughts? Which Studio is better – Review or Approval? For sure, Review has a lot of video and audio formats as well as more mark-up possibilities, but in terms of version control and auditing, Approval seems to be far superior. Although we also have a number of unique markup features, our concept is not only a quality design review but also a quality service for project managers. If you want to test it for yourself, contact us to book your free personal demo session!