Graphic design and marketing are two industries that are developing while being tied closely to each other. Visual representation of ideas is the crucial concept that connects both of them. They are both based on the creative process, brainstorming, and the most critical component of the many others — human response.
To achieve this response, many creators have to go through a lot and face many challenges in completing their projects. The creative side of these challenges is the creators' responsibility solely, but when it comes to technicalities… Let's say that similarities between marketing and graphic design lie not only in their positive aspects, especially when it comes to design collaboration.
The Reality of Project Delivery
Every step that creative teams take in the process needs to be approved by the client to achieve the best result and satisfy the customer's needs. Constant back-and-forth creates a vast black hole that drains the project time.
Recognizing this fact, creative teams try to optimize their business processes to shorten the time for each project phase without losing the quality. Sooner or later, everybody arrives at a similar conclusion: the first thing that can and should be optimized is the proofing phase. But why?
Each time you create the first mockup or confirm the release file, you need to approve it beforehand. That makes a question: how do you do it? There are several ways, but people's choices can be surprising at times.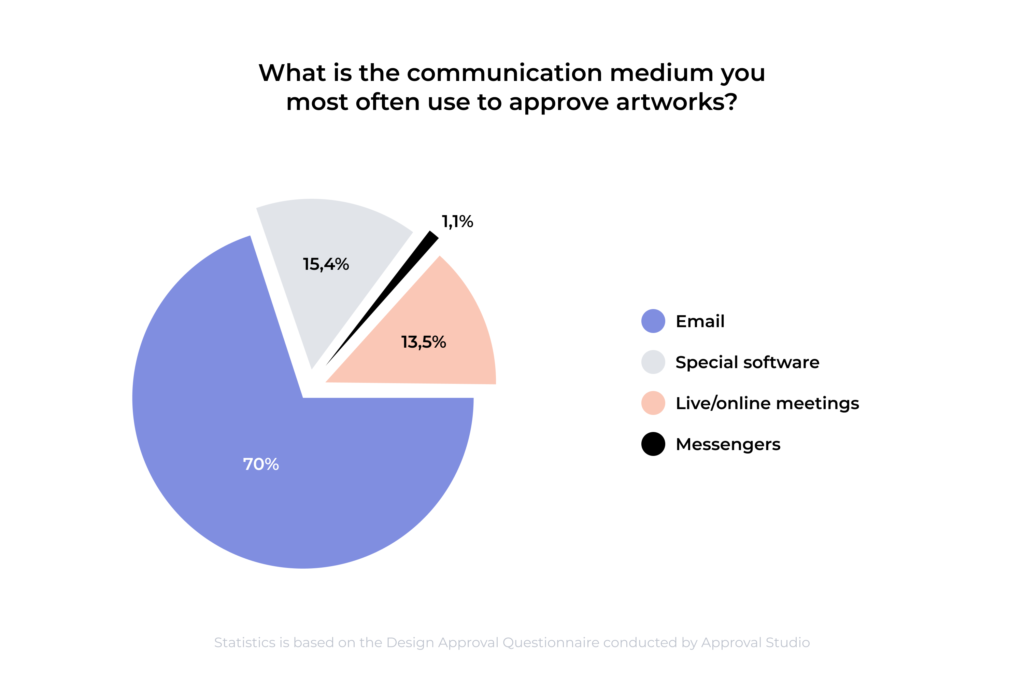 Ok, I'll cut to the chase. Did you know that emails are the most widespread way of approving artworks for design projects? Like, now, in 2022? We did our little research and found out that around 70% of creatives do not use any software in their design review process, only emails or – very seldom – messengers. Another 13.5% prefer live or online meetings, which is understandable yet quite impractical in the post-COVID-19 world. Only 15% of creatives use special artwork management software.
And now attention, please.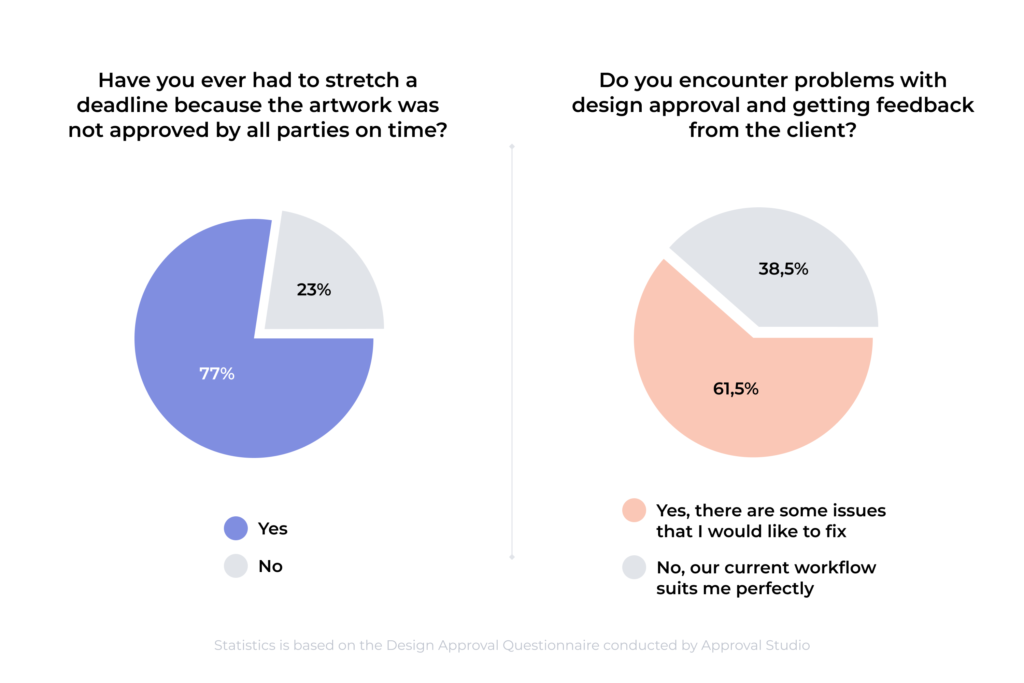 You do not need me to tell you that setting up processes via emails is exceptionally time-consuming. Now, check this out: 77% of our respondents confirm that they had to stretch deadlines because the customer did not approve the artwork on time, and 61.5% claim that there are issues with their design review and approval process that they would like to fix. I think the correlation between these numbers and email usage is rather apparent. It brings me to my main point: to decrease the amount of valuable time wasted, creative teams need a solid proofing solution.
If that sounds familiar, further in this article, I will discuss some typical problems and ways how online proofing system solves them. We have gathered the top 5 indicators that need to implement online proofing into your business process. Side note: we could stop here and quickly point out missed deadlines as the main reason to buy design feedback software. However, we will dig deeper and find the origins of those missed deadlines. Let's take a look.
Lack of Timely Feedback from Stakeholders

Project managers and designers keep the project neat and the design approval process up to date only when they receive quick and argumentative design feedback on time. Feedback is what improves and streamlines collaboration between you and your client. An average specialist's daily email load is 120 letters, making it complicated to reach a reasonable work rate. How can people deal with so many letters where comments can be duplicated, edited, or contradict the previous one? Your stakeholder can forget about your letter, miss it, or switch to the next one they've just received in their inbox. What do you do to get out of this 77%?
Solution:
An online proofing tool such as Approval Studio doesn't forget anything. It shows all actions completed within the project, sends reminders, and keeps you updated with your tasks — zero chance to miss something.
Ambiguous and Ineffective Feedback

What is the best possible way for a client to waste time and money and slow down the project? I'll give you a hint: it's all about leaving vague feedback. Then, you will receive a letter with a polite request to clarify which color you want to change to greenish. And what exactly you mean by greenish. And how, in your opinion, it should fit in general design since there are no green shades at all. There can be millions of such questions; they all are significant for a designer who wants to complete the project successfully and make something cool out of it. Imagine their frustration if, instead of a letter with direct answers, they receive another vague reply saying, "make the main color green as you see fit; we're the eco brand after all." You might find it funny, but trust me, any designer reading this might just have turned into the Hiding Pain Harold. It also drags the project making the design guilty, so we hit our 77% mark again.
Solution:
Online review tools display comments directly ON artworks (point the place & write the word) and give a possibility to engage multiple people simultaneously. Multiple people point with their fingers at a place, tell you what they think about it, and you hear everyone, and you will not forget what they say, as the proofing tool records everything for you. Now you have precise comments in a couple of clicks and minutes of the stakeholder's special attention — that simple.
Version Sprawl

Unclear or inconsistent feedback and numerous file versions can significantly impact the success of the project and meeting deadlines. But what if you need to re-do the task after completing everything on time?
Yes, Harold-face is still here as much feedback generates different file versions that sometimes, truth be told, should not even exist. But even the specific change request leads to the new mockups and new file versions of which you need to keep track. It might become a real headache to find the required file version, go a few steps back, or get them all ready before the final revision. With multiple pieces of the feedback sent to you from multiple stakeholders via multiple media (got this sentence is awkward), you get a catastrophic version sprawl.
Solution:
Online proofing tools provide quality feedback and catalog your artworks and all their versions. Everything is in one place; no need to browse through all the folders on your computer. In addition, Approval Studio's design review system provides the comparison tools that help track all the changes made to the mockup during the project. Everything is automatic, and you no longer need to spend your time managing your files manually.
Compliance Is an Everyday Requirement

Nowadays, marketing content in development usually doesn't appear in the open-access before the release and is frequently restricted by compliance requirements. These can be internal and external ones and can include but not be limited to the following:
Brand compliance
Disclosures
Comparative claims
Special offers
Substantiation
Sweepstakes and contests
Marketing to children
Collection and use of marketing data
The risks of non-compliance can be severe — loss of customer's trust, financial penalties, and personal reputation within the industry. It's not only about getting the right people invited to the process and requires proof-positive information on the review for these materials.
Solution:
An effective online proofing software can help marketing teams to protect their design review process in two ways:
All comments and annotations are saved and well-protected, structured by file version, and can always be retrieved by a specific project report.
Every person associated with particular projects is notified regularly about all new feedback, and you can track all the progress.
Aside from that, many design proofing tools support role-based control, which can limit permissions a particular employee has. Approval Studio, for example, allows you to differentiate project owners who can see all information from regular users who can see their tasks.
Lack of Coordination with External Teams

I am sure you have faced many situations when, for example, you use Slack to communicate, but your client uses Skype. Or your project management tool is Basecamp, and the client is on Asana. These situations may cause a problem in coordination with a client, which slows the progress down.
If you add more participants to the process, it is crucial to erase the borders in communication and coordination. In other cases, you are planning to fail. When talking about online proofing, you will need to ensure that everyone is reviewing the same file and receiving the same information.
Solution:
When working with external teams, graphic design collaboration tools help project managers ensure that participants of the process are using the same environment and get the same information when reviewing files. By having a standardized approach with one single tool, you can stay on the same page during the collaboration with internal and external team members, disregarding the differences in your infrastructures, time zones, and locations. You will get the needed information, precise feedback, and consistent comments.
Conclusion
If the problems mentioned above are familiar to you and sometimes prove troublesome, you need to consider implementing design review software into your business design review and approval process. The remuneration of such a stunt will be on-time project deliveries, consistent feedback, and improved design project workflow, while the version sprawl, non-compliance, and miscommunication with external teams will be left behind. If you're still hesitating, you can contact our team at any moment and ask whatever questions you have — we will be glad to help!