Stop! I say stop sending the client another iteration of their logo in the messenger or, what is even worse, by email. Stop discussing this or that project with everyone separately not being able to comprehend what changes everyone requested and making notes in your notepad that you cannot read later. Just stop.
And why? Well, a process like this is often unorganized, messy, and chaotic. However, that pain has been solved by proofing tool developers. We would like to tell you about it because we have a lot of experience in going through the pains of design approval and using such software daily — our own included.
Eternal problems of graphic design
You may think that the inevitable pain of any designer is the loss of inspiration and muse. However, if you faced the approval of your work, you know that this is hardly any better — at least because it might make you as angry, frustrated, and nervous in the same way. If you do everything the old-fashioned way through emails and messengers, sooner or later, you are doomed to explode.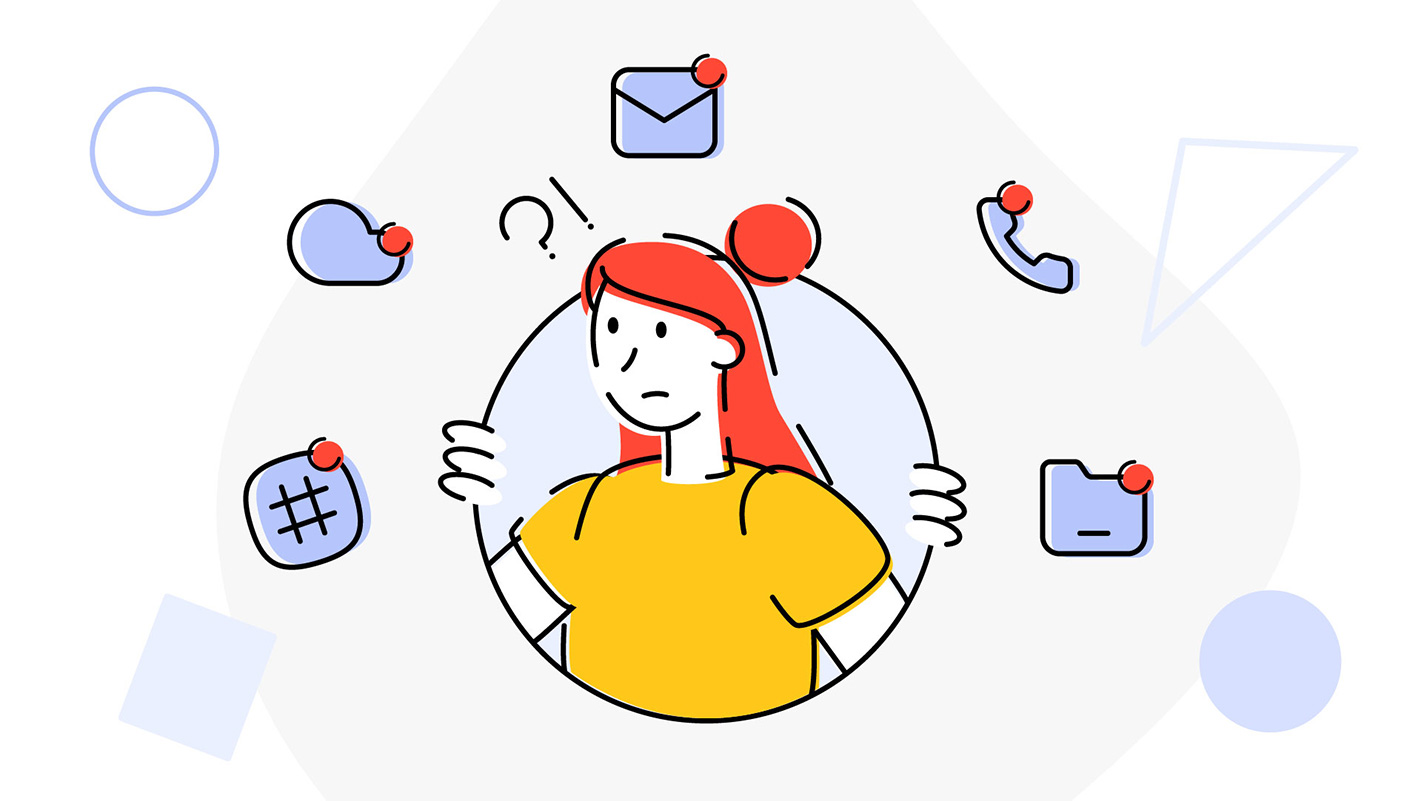 How to find the correct version? You need to recognize it from thousands of others from Amazon or notifications of new articles from your favorite media. Then you need to find all the versions somewhere on your computer or disk and compare them with what the client said. And then suddenly he writes, "I do not like this blue color, let's another." We look at the design, and there are so many shades of blue that it's not very clear what the customer meant.
You sit down and redo. You are redoing it slowly because your letter with the clarification "And which blue to change and how?" was not answered. And then you hand over a new version of the layout, and they tell you that there was no such request, and they didn't tell you to change the blue one. And you won't prove anything right away because you have to look for that single email again. As a result, both your and the client's nerves are damaged, and you both want to finish the project sooner and just be rid of it. This approach is not healthy.
Of course, not all customers are like that. But very often, there are situations when feedback is lost, forgotten, or not recorded at all, and the process stops. Everything starts to stagnate due to an inefficient approval process and failed communication.
Why is it crucial to solve this problem?
Any problem in any profession leads to several unpleasant outcomes: burnout, loss of money/time, and loss of efficiency. The latter entails the loss of brand credibility and market value. If you think that these problems do not concern you and feel confident, we are really happy for you, truly. But let's just for a moment look at the situation from a different angle.
The industry is developing pretty fast, there are many incredible professional designers for the client to choose from, and that sole fact makes a very specific impact on one criterion by which customers choose a specialist — service.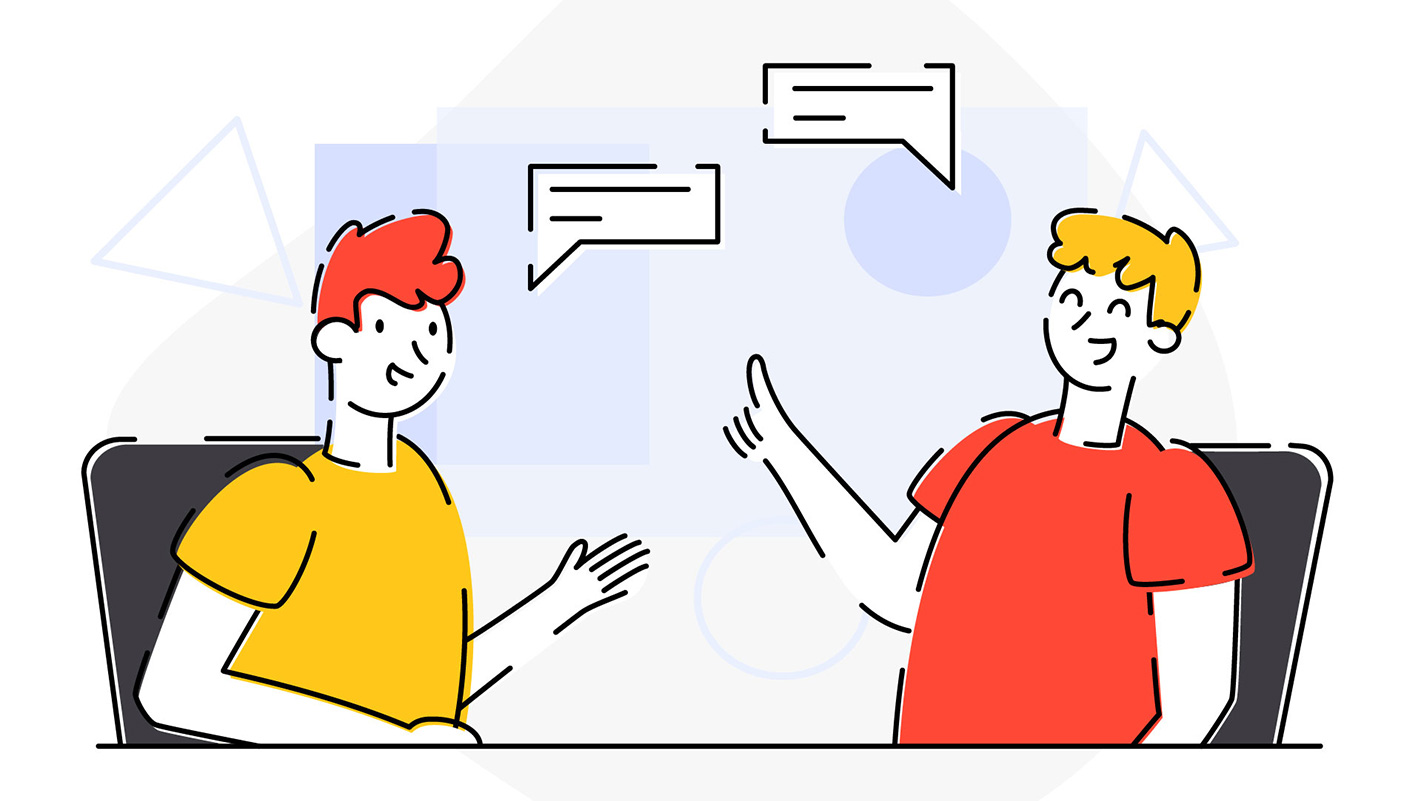 And the service in graphic design consists of the speed of tasks completion, convenience, the efficiency of communications, and "professional appearance." By the latter, we mean how cool a company or specialist looks in front of a client. It will be more pleasant for customers to see some software that optimizes the process and, most importantly, saves their time by keeping all the materials and feedback in one place. And when the clients know that work with their requests and questions is so simple and even enjoyable, that's a +1 important point to your reputation in their eyes. Using the approval program will make you look like a unique specialist or company that quickly and effectively solves the problem of communication around the design. Since all the feedback will be precisely where it is needed, there will be no situations like "I don't like this blue, but which one exactly – you must guess yourself."
Hence, here's the whole importance in one phrase — avoiding chaos.
How design approval software can help
As we mentioned above, we have a lot of experience of using such software. We were more than familiar with the concept, but there was always something lacking. When we started to find ourselves in the situations described above more often, we firmly decided to develop our own approval software that would have everything a designer might need.
In short, the software is a panacea for all problems with communication between the team and customers, except for the human factor (both the client and individuals from the team may not find common ground at all). But this factor is not subordinate to anyone or anything and hardly can be solved by any kind of SaaS.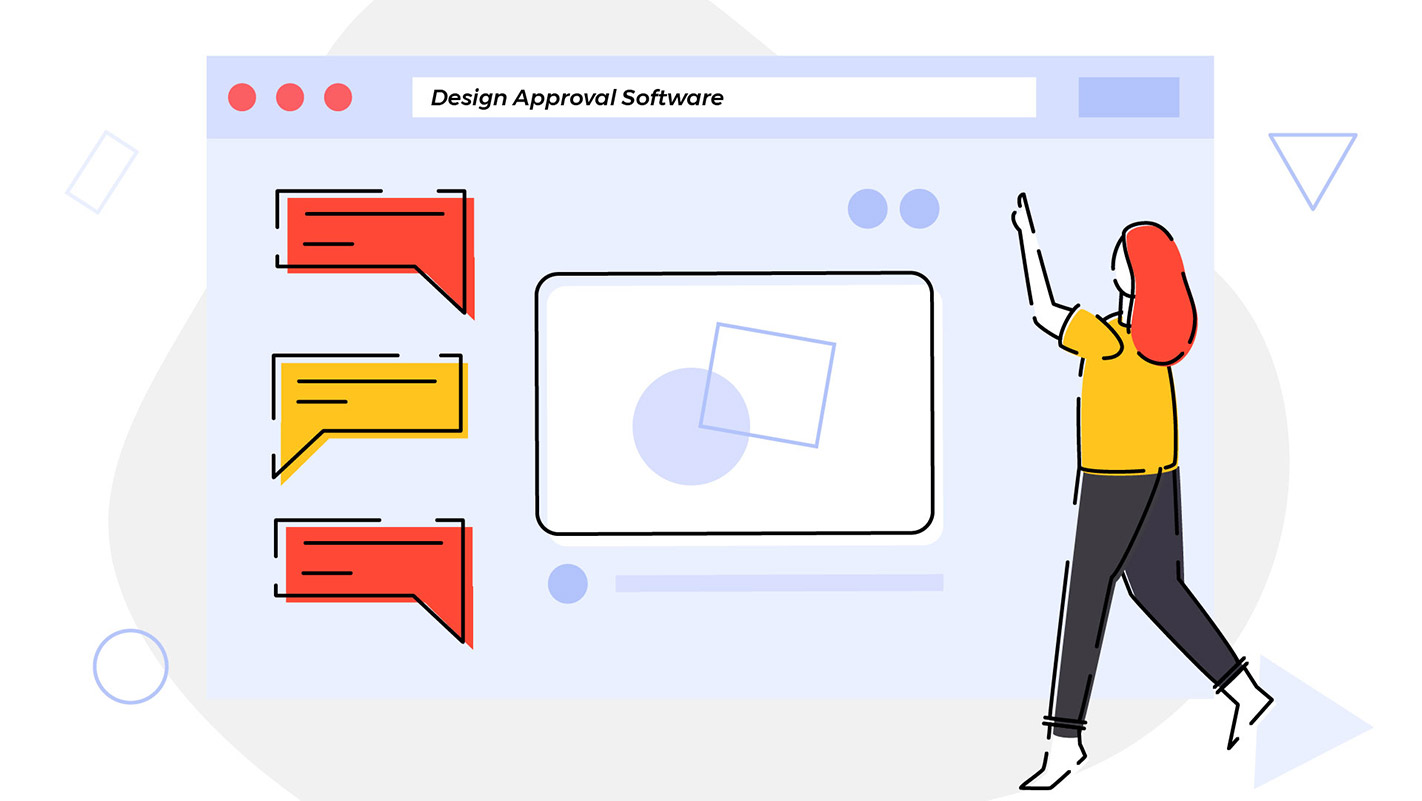 I have an example for you. You are a serious company that designs packaging for your client. You work diligently and fruitfully on the project, and, in the end, you submit the final layout. Your customer is delighted, and you are delighted with the customer's delight 🙂 The process of printing five hundred thousand copies begins on the same day.
Suddenly, your customer calls you in the evening and says that you have made a mistake in the company's name. Yes, it was tough to notice, because it is not the product's name and does not cover half the packaging area. But that's it, half a million packages have been printed, and that's a huge loss. And why did it happen? The fault is human inattention – changes were made to the new version, but you did not check all the elements. Now, much time and money are lost, but the most important thing at stake here is the company's reputation. But imagine that you could just ask the system to show the differences between the last and pre-last iterations of the package, run your prepared package through a spellchecker, find the thing, and fix it… Wouldn't that be cool?
The main reasons for such situations are inattention and failed communication with the client and the team. That's why you need modern software to solve non-trivial issues, like the slightest changes in pixels, instead of a human eye that can simply get tired. That is why you need to pay attention to design approval software. It can even help ensure that your approach is the right and most effective for your company.
Examples of design approval software
We decided to provide you with examples of the leading players in the market of approval programs. Each representative has its advantages and disadvantages, so let's consider a few options.
*All programs are cloud-based, and you do not need to install anything on your devices.
Approval Studio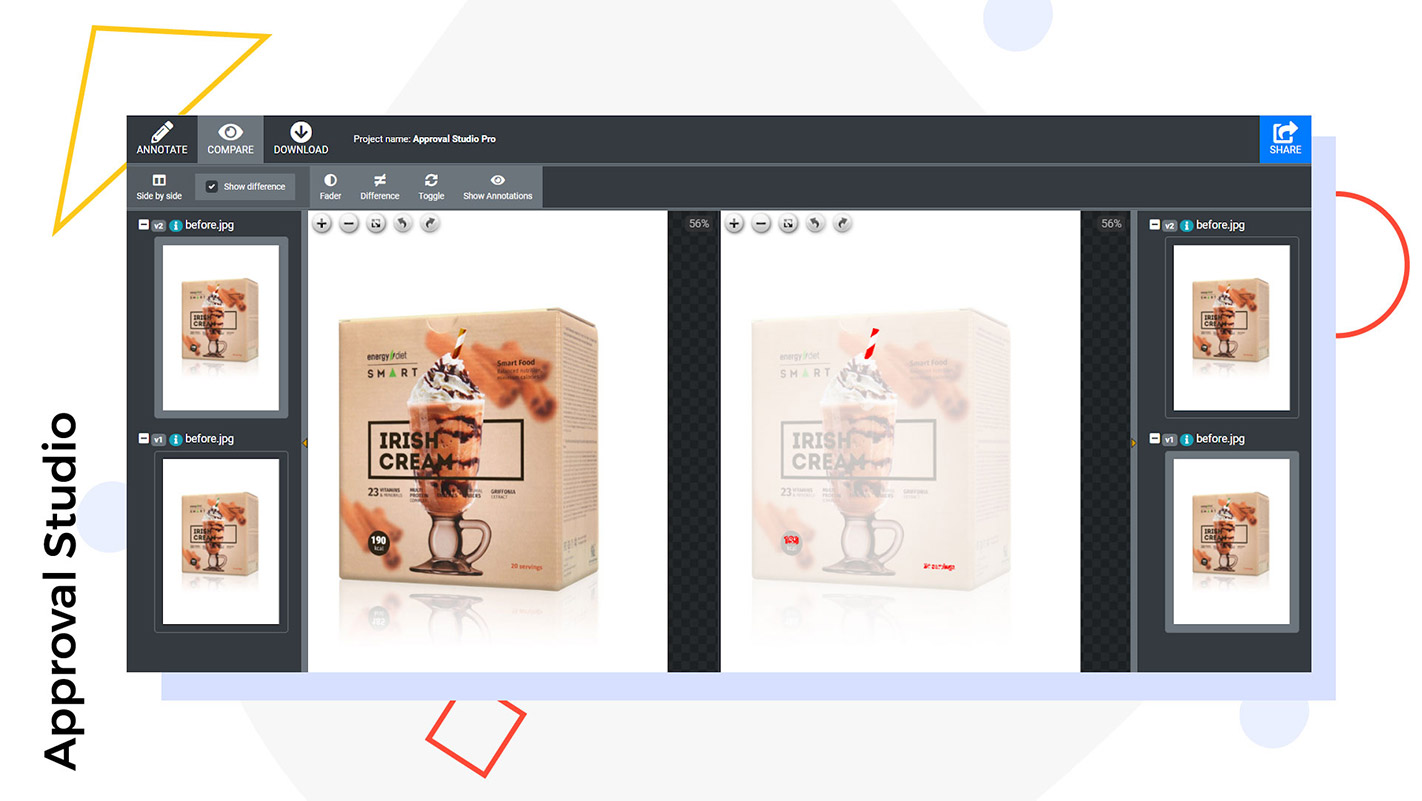 The main features of Approval Studio are automated comparison modes, a plug-in for working in Adobe products, and many localizations. This program will help you effectively collect feedback from all participants of the creative process. There is also an API that opens up great opportunities for integration and collaboration, a project management package with the ability to assign tasks, and comprehensive reporting.
Advantages:
7 interface languages.
API, a plugin for Adobe, and integration with Slack.
4 comparison modes, barcode scanning, ruler.
Annotations appear live, allowing you to discuss edits immediately.
Detailed PDF-reports for separate files and projects.
Support for 23 file types and video approval.
Disadvantages:
Video approval is still in beta.
At first glance, the interface may seem complicated.
Of course, we would encourage you to give Approval Studio a try and check all of its benefits for yourself — we worked really hard on perfecting it and still do so with our releases every month. If you need any help or have any questions, contact our support team via that blue button in your lower right corner. Thanks!
ProofHub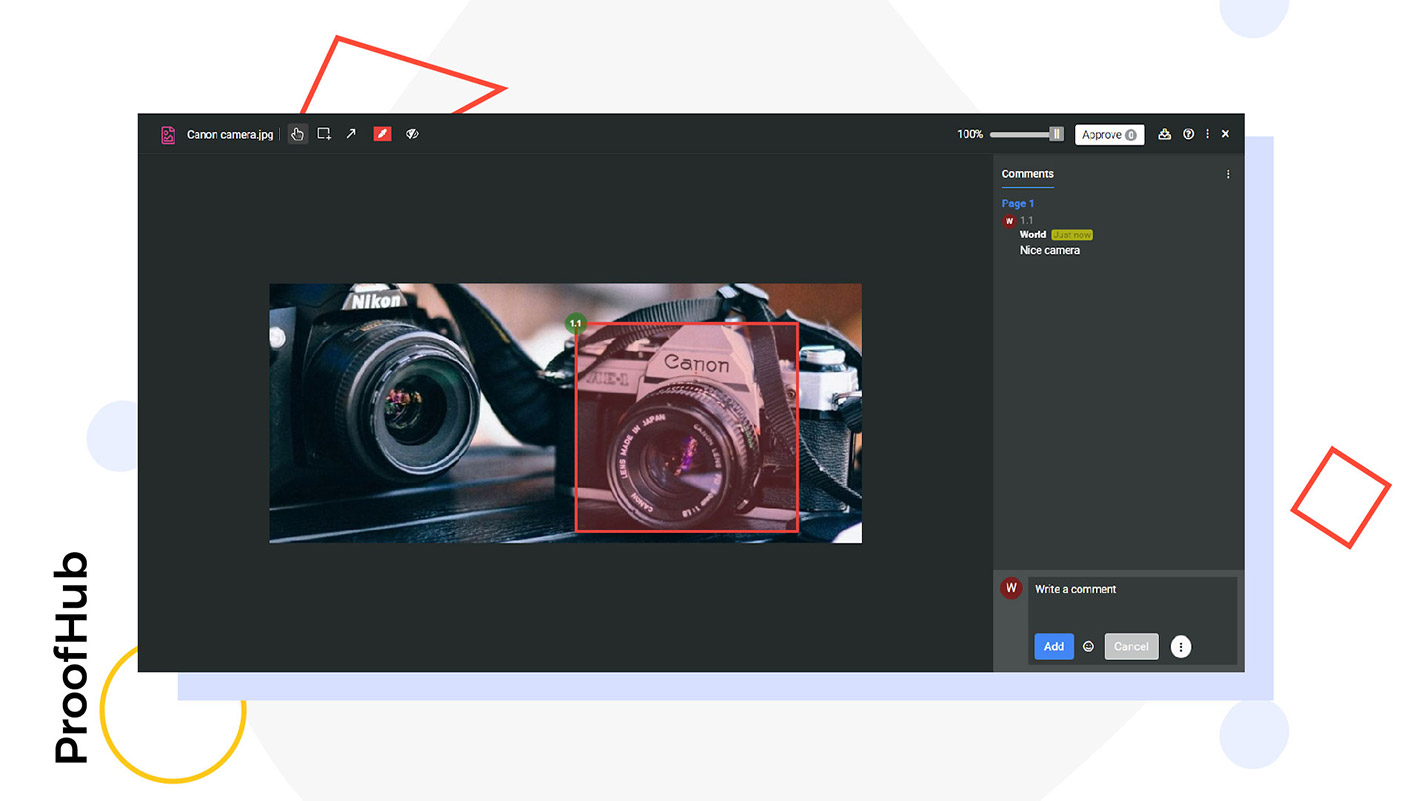 ProofHub is another interesting representative of the market of the design approval software, which has very good feedback from users. ProofHub provides not only a review tool but also comprehensive project management. This is the case when you come to the store for bread and go home with full bags, the main thing is to understand if you need that much.
Advantages:
Multifunctional project management.
Customization and branding for your company.
Time tracking and reports.
Dashboard in kanban style.
Tracking the progress of a project or task.
Disadvantages:
Reviews say that since there's so much in ProofHub, there may have frequent performance failures.
No automated comparison of versions.
GoVisually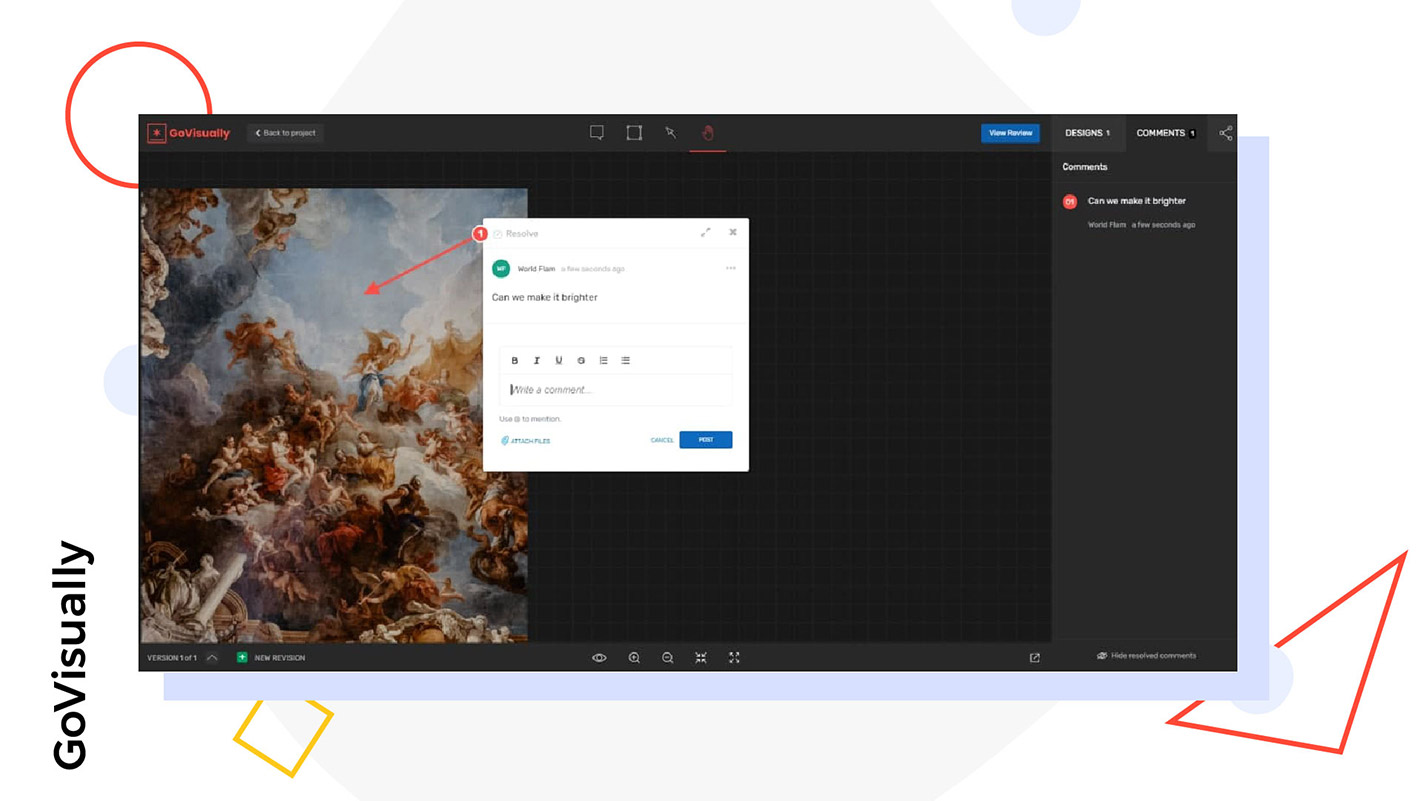 GoVisually is another representative of the market described above, which may also be on your wish list. The interface of this program is probably the most pleasant of all in this list – attractive and straightforward. This software has great reviews among users, but even though everything is clear and understandable, it still lacks a bit of the necessary functionality in the review tool.
Advantages:
Beautiful and attractive interface.
Has project reports.
Fast and smooth performance.
Simple but clear functionality.
Allows to export comments left by people.
Disadvantages:
No additional approval features that are present in the competition like a ruler, various forms of annotations, a barcode scanner, and so on.
No localization possibilities (will be a problem for people who do not speak English).
Final thoughts
If one or another representative solves your problems — go for it, as this is the most important thing. The purpose of this article was to acquaint people with this type of software. Because we work in the creative sphere, we know the pains and problems in our market, and ineffective communication becomes the most important of them.
Designers know how to create, solve customer problems, and come up with very creative ideas. However, very often, communication with a client or colleagues becomes an Achilles' heel. As mentioned above, there may be misunderstandings on both sides, but the solution to this headache is just one click of the orange button away 🙂