We are thrilled to announce the latest update to Approval Studio, packed with exciting new features, improved functionality, and bug fixes. Let's dive into what's new:
Selective Asset Review
We've enhanced the review process by introducing the ability for users to select specific assets within a project for review. Previously, it was limited to either reviewing one asset or all assets in the project. Now, you have the flexibility to choose individual assets, allowing for more focused and efficient reviews. Select asset 2 and asset 3 out of 5 assets? No problem! This new feature provides greater control and customization in your review workflow.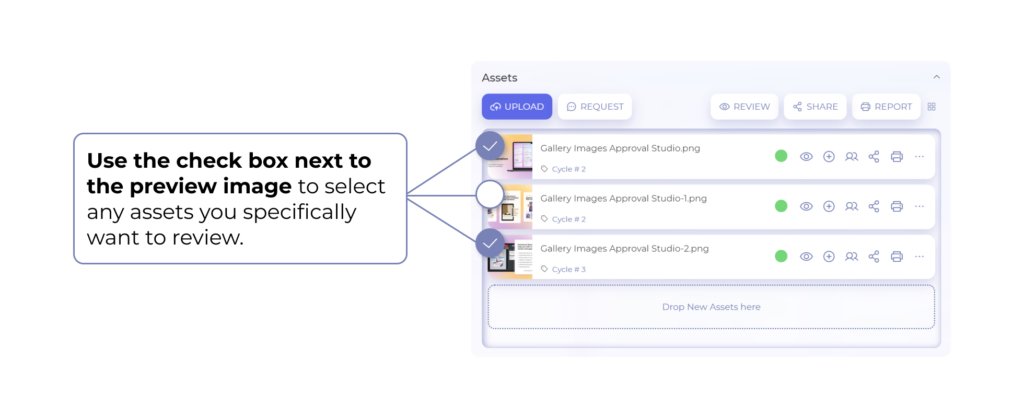 Simple Review Mode
Introducing Simple Review Mode. This mode is designed to cater to new reviewers or those less familiar with complex review tools. It offers a simplified interface with only three options: Create Annotation, Approve, and Reject. By reducing the number of options, we aim to provide a user-friendly experience that minimizes confusion and ensures faster, more straightforward reviews. With Simple Review Mode, even non-technical reviewers can effortlessly provide their feedback. You can easily switch between full and simple modes on every review.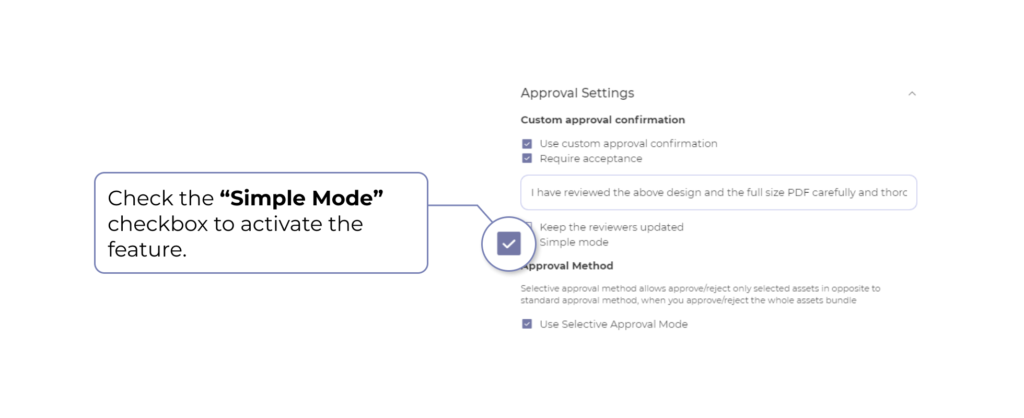 Enhanced Eyedropper Tool
We've revamped our Eyedropper tool to make it even more accurate and powerful. Previously a frontend tool, it has now been transformed into a backend tool, ensuring precise color identification. The new Eyedropper tool supports various color models, including RGB, HEX, HSL, HSB, LAB, and CMYK. Whether you're working with digital designs or print materials, you can rely on the Eyedropper tool to provide accurate color selection. This enhancement saves time and helps maintain consistency across your projects.

Bug Fixes and Optimization
In addition to the exciting new features, this update includes numerous bug fixes and optimizations. We've diligently addressed reported issues to improve the overall performance, stability, and user experience of Approval Studio. We are committed to providing you with a reliable and efficient platform, and these bug fixes and optimizations contribute to a smoother workflow and enhanced satisfaction.
We extend our heartfelt gratitude to our dedicated user community for their valuable feedback and suggestions. Your input has been instrumental in shaping these updates, and we greatly appreciate your contribution to making Approval Studio better every day.
Should you have any questions, feedback, and reporting any issues you've encountered! Our friendly support team is always here to assist you. Reach out to our project manager at [email protected] and we'll promptly address your concerns. Or use chat to contact our support team directly.
Thank you for choosing Approval Studio as your go-to creative workflow management tool. We hope you enjoy the latest features and improvements, and we remain committed to your success.