What is the most important in managing design workflow? To make the collaboration process smoother and more organized. Quite often, relying solely on human factor, we cannot gain the results we need, and it makes our collaboration suffer.
Tiny details that can seem insignificant at first might cause a lot of problems later, especially in such peculiar industry as graphic design. A misunderstood task, final draft submitted post-deadline, unclear instructions… how to avoid these and many othe major design collaboration issues? Our answer is simple: software.
How to Choose the Right Collaboration Tools for Design Team?
Since I've started talking about problems, I guess that they will be our main factor to take into account today. As I've already said, design industry is pretty peculiar, which means its workflow has certain elements that define it and are absolutely necessary for successful collaboration. Among others, I would highlight clarity of communication, progressive task management, mark-up possibilities, and reporting. Let's got through them one by one.
Clarity of communication
This is probably the most important thing to consider choosing your design collaboration software. As one of my university professors said, some better than none. It can be applied to project communication as well, but if you are a professional, "some" will defiitely not be enough.
Usually, in terms of project communication, creative teams rely on emails and messengers, which might have a very negative effect later on. Email might often be not noticed, sent to spam folder, or simply lost somewhere in the pile of other letters and messages. Your email service does not really care if its important feedback or deadline change information you're sending – it might go unnoticed no matter what's inside, and the project result might be very different from what was expected.
If something like that ever happens to you, it's a good idea to pay attention to communication features of your tool for design collaboration. Inner communication right at the page with the artwork will make your life significantly easier.
Mark-up possibilities
The essence of feedback, no doubt. Let's say, you have established a pretty good workflow and the feedback and other instructions find their addressee very quickly without any problems. But is it always clear? Has it ever happened to you that you get "change color" requirement and sit there for several minutes wondering: which color exactly? And then you must send a response, clarify it, and lose your time.
If this is the case, look for some software with wide mark-up possibilities. That would mean that your chosen program must have some sort of proofing tool where you can highlight what exactly you want to have changed and, in case some additional questions still arise, check it right there.
Progressive task management
Task management has never been an easy field either. If you assign the tasks to your employees sending them "Congratulations!" letters, it might go the same way down the drain as the feedback thing. They might not get notifications, not notice it, or, in the worst-case scenario, ignore it because they don't like it. Doesn't exactly sound like a good perspective.
If that's something you face, look for task management functions in your collaboration tool for designers. When you can assign a specific upload, review, and other similar tasks to your workers, the possibility of it remaining unnoticed reduces significantly.
Reporting
Of course, all these problems and solutions to them have much less sense if they are not registered and audited somewhere. In my practice, clients often asked me why this or that task took so long to complete, and I prefer to have some stats or timeline I can show them. It makes the whole process easier to explain and track, and if I missed the deadline because my client took 5 days to provide me with some feedback, I have some proof to back it up.
That's is not the only reason why you should pay attention to reporting functions choosing your graphic design collaboration software. Not only does it provide some valuable data for your client after the project is completed, but it also lets you analyze your mistakes and plan your next jobs better to avoid them in the future.
Taking into consideration all of the above, it is impossible to keep track of changes and manage projects without using additional software. It might seem inconvenient at first since you'll have to adjust your workflow, but it will surely prove fruitful in the end. One more problem is that freelancers or small companies are not always able to afford some software. However, not all good collaborative design tools will necessarilly have you busting the bank to get them. Thus, we compiled a list of best affordable design collaboration tools. Let's go!
8 Best Affordable Design Collaboration Tools
Approval Studio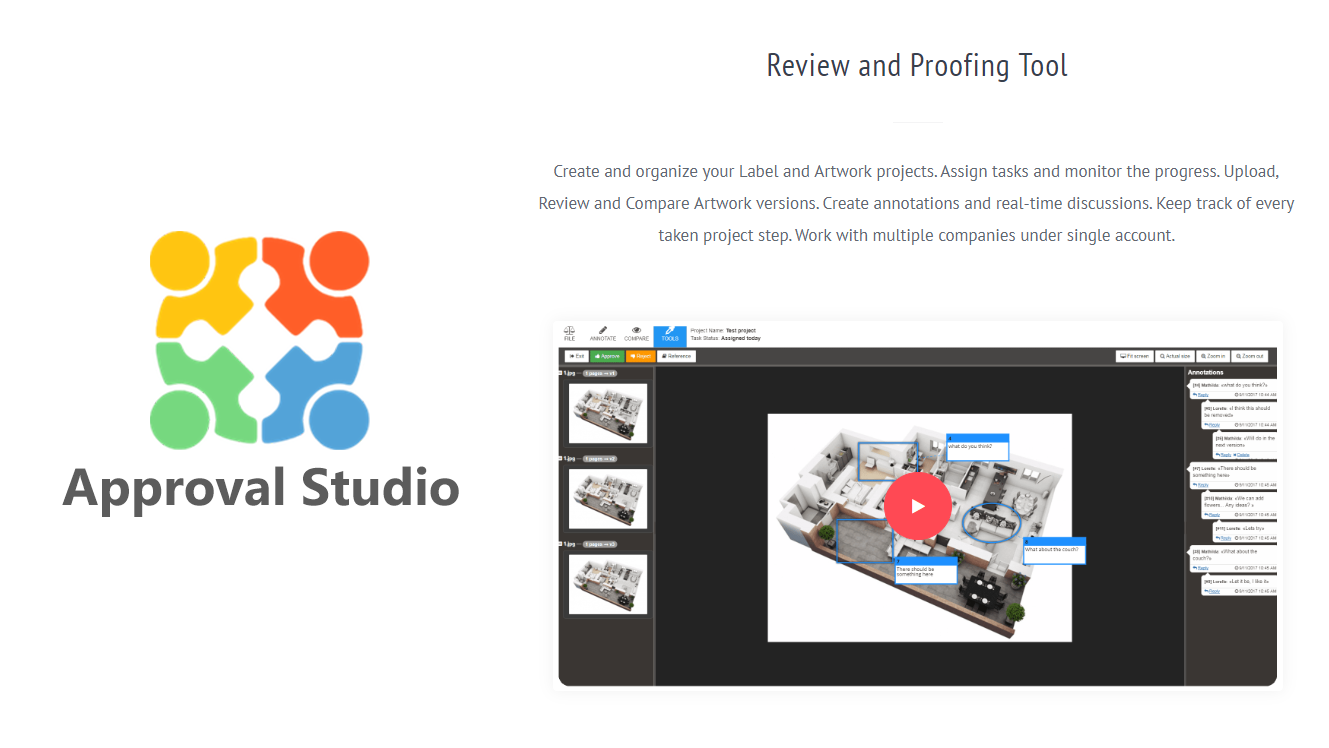 Cheapest plans: 30$ annually (unlimited projects) /40$ monthly (unlimited projects)
P.S. The tool has a free influencer offer!
Friendly UI, chat-a-like discussions, powerful review tool, and design project management features – this tool provides all you need for a collaborative design workflow. Proof reports is another function that will help to keep track of changes. Versioning and sharing via short URLs are also available. Project timeline and prioritization are included as well.
A great bonus is 24/7 support for all types of plans.
Bounce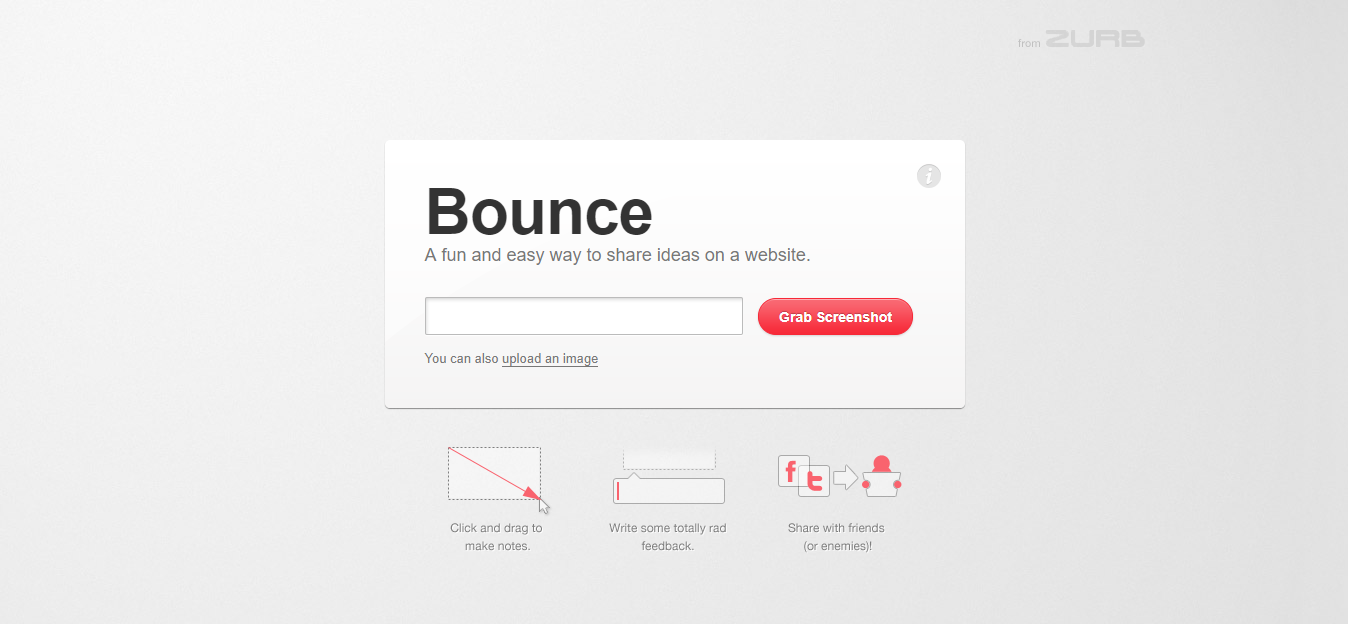 Cheapest plan: free
It is a small but useful tool made for designers. You can add an annotation to any part of the artwork and share it with your team members, friends, or enemies (as they say?). It is even possible to review a webpage by typing its address in the special field. The tool will make a screenshot, and you will be able to annotate it.
Bounce allows to add names of companies and workers (if you need it for project management), save feedback notes, share them via URL or social media. To make notes, the tool uses a click-and-drag function.
Red Pen
Cheapest plan: 20$ monthly (5 projects)
It is an extremely easy tool to use for design collaboration. The service remembers you after you visit Red Pen, so there is no need for permanent logins. You may think that it does not really ensure safety, but Red Pen claims your data will never leak.
After you upload the file, you receive a unique link to share it with your customer or colleague. When you come back later, not only does the site remember you, but also your uploads and links.
GoVisually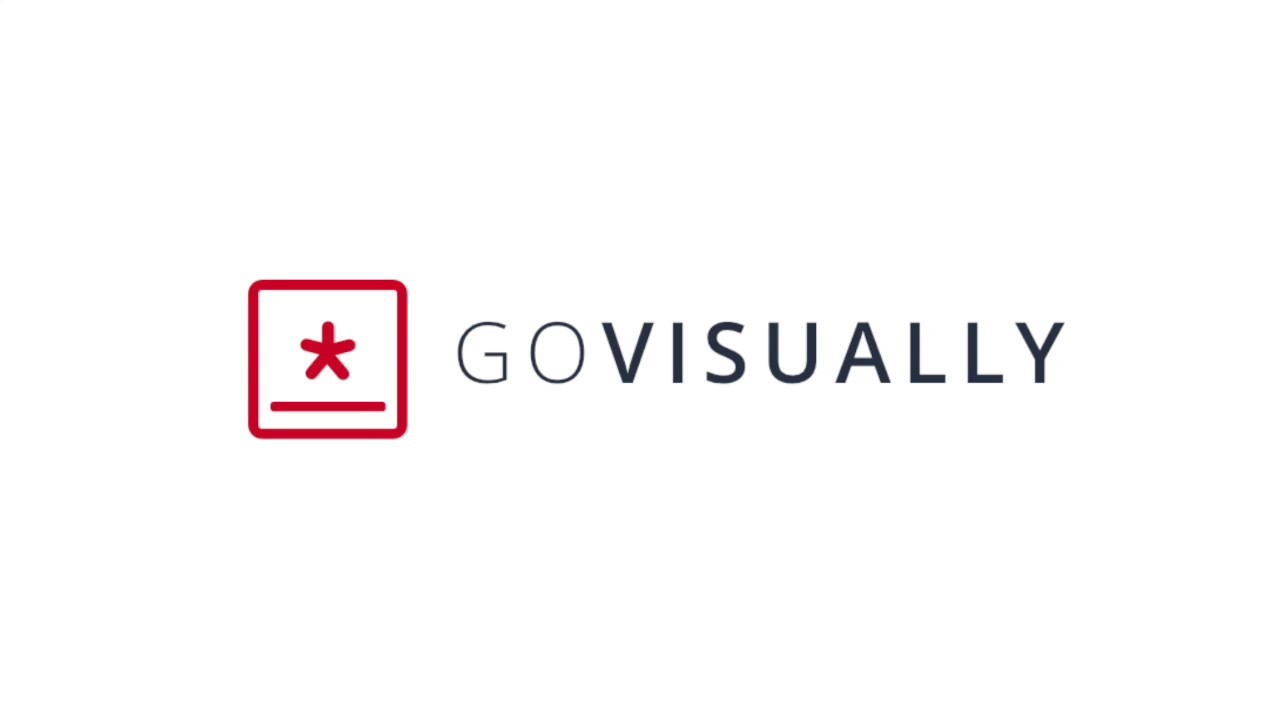 Cheapest plan: 12$ monthly (12 projects)
GoVisually is one of the most hyped design team collaboration tools, and, in this case, it is deserved. The app allows instant communication, using markup tools, and multiple revisions.
The tool provides a function of drag-and-drop upload loved by so many users. Annotation page is convenient and user-friendly. There are many functions available, and switching on the full-screen mode will help to concentrate on the artwork.
See our GoVisually review here.
Invision App

Cheapest plans: 0$ monthly (1 prototype)/15$ monthly (3 prototypes)
As it is stated on the main page, Invision App is prototyping and collaboration tool for design teams. High-fidelity designs, UX sketches or wireframes are now linked up.
The tool has great sharing options – with URL links to any artwork, you can give anyone the access to the project or mockup. Threads of annotations help to receive effective feedback. One more peculiar function is real-time to-do lists that will help your project go smoother.
Prevue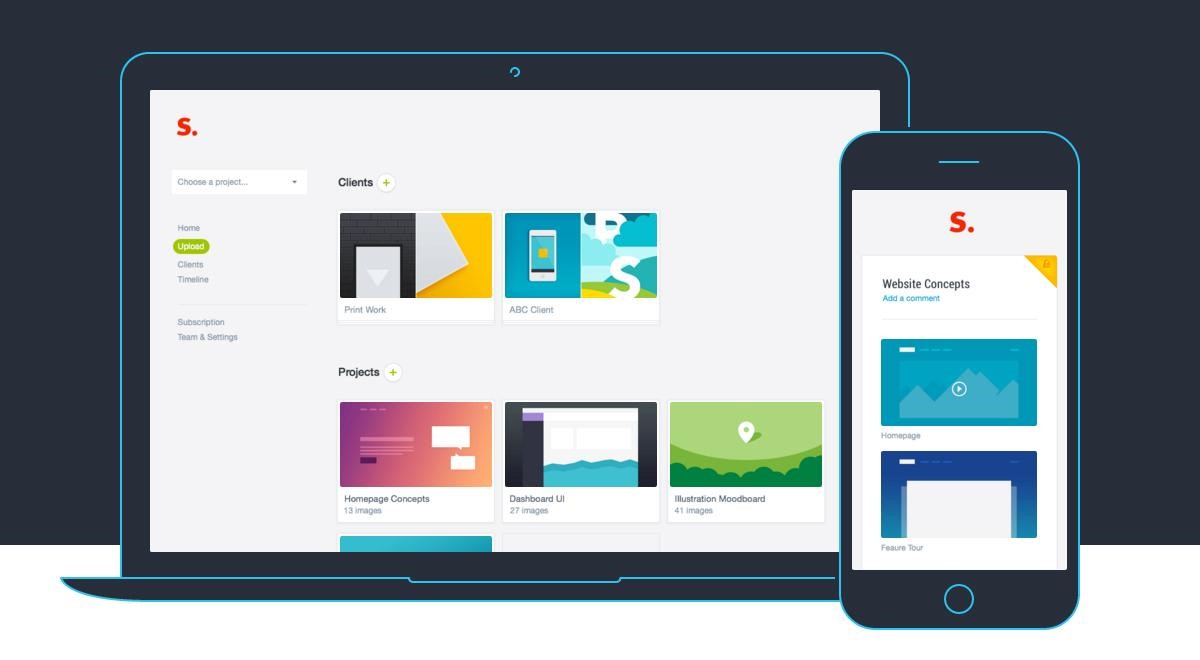 Cheapest plan: 10$ monthly (10 projects)
It is a fully functional tool that lets upload and share concepts with clients and team members. An interesting feature is that you are allowed to add your own logo that will be visible whenever you work.
Also, guys have Google Analytics for your uploads that is protected by 256-bit SSL connection. Accounts are free but you have an opportunity to do an upgrade for extra functions and space.
Figma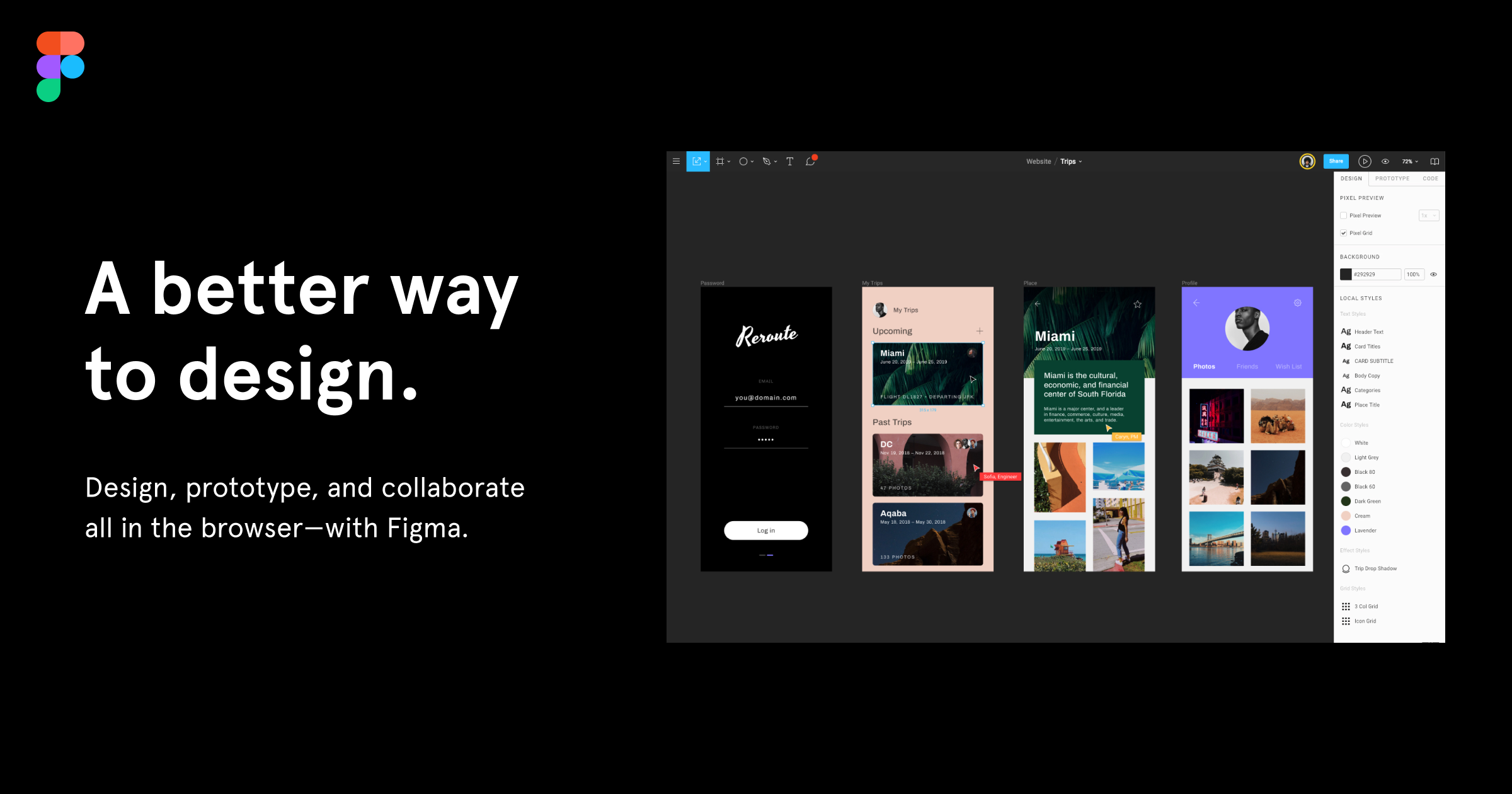 Cheapest plan: free
A great tool for design collaboration with rich functionality and pricing plans. Live conversations, project history, and many more.
Unlimited file storage and views will satisfy those clients who have hundreds of iterations and versions of their designs.
Concept Inbox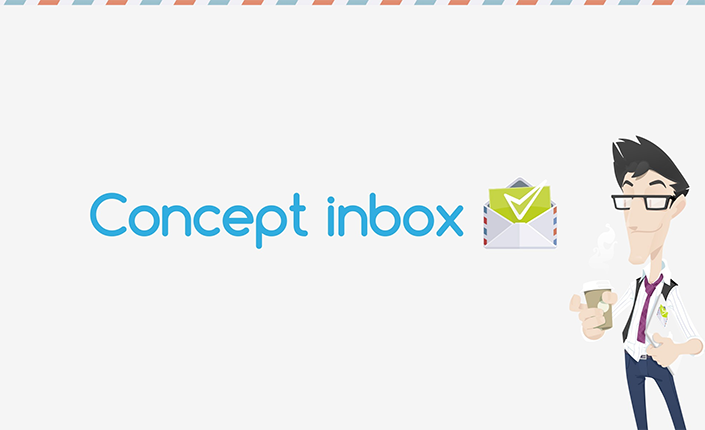 Cheapest plan: 14$ monthly (3 projects)
Concept Inbox is a great tool that has unusual registration. Don't be scared, there is nothing complicated about it. You just need to send an email to their box – enclose title of a project (in the subject field) and images you need and you will receive a dashboard with your project.
You can customize your dashboard for your needs and convenient usage. Check activities, edit annotations – this tool has all you need for the collaboration process.
What do you think are the best design collaboration tools? Let us know if we've missed something interesting, and remember – any specialized proofing software will serve you much better than email proofing. Doubt it? Check our article about using emails for the proofing process.
Final Thoughts
So, these are our top-8 affordable collaboration tools for design teams. Which one is the best? I do not really think it would be fair for me to give my point of view on that matter. I will only say that Approval Studio currenly has a 6-month free offer for those who want to become influencers and help us improve our product. If you want to participate, sign up and let us know what you think.
Good luck!