Thinking about the evolution of means of communication, I cannot stop wondering how could humanity cover all this way in such a short period of time. From the post doves to online messengers, the form has changed but the essence remained the same – to deliver the message, instruction.
Telegraphs, faxes, telephones, pagers, mobiles, internet – it all has the sole purpose to establish successful cooperation between people who cannot resolve their matters face-to-face. With such a development, distance stopped being an issue and became only a minor complication that people tend to ignore … mostly.
All the sentiments aside, our modern world provides us with most wonderful opportunities to have an instant connection virtually with any person on the globe. The only thing you've got to have is any contact information you can use to knock on the door that is separated from you in hours and sometimes even days. I find that truly amazing. Ability to communicate in such a way has enabled a countless number of projects in the world to function and prosper. Numerous team members might not even see each other in real life but still do the necessary work. No way we state it is easy – but it is possible, and it is a common practice.
There are many different means of how exactly to establish this vital collaboration, many different approaches, but they undoubtedly involve certain software solutions. And in our today's blog entry, we are more than willing to share some of these solutions with you.
What is the remote working tool?
In short, a remote working tool is a software solution that enables successful collaboration in a situation when team members have no physical ability to communicate. It might concern various aspects of teamwork but the essence always remains the same – ensuring connection and information exchange.
Some might wonder: why use remote workers at all? Isn't it more convenient to have everybody gathered at the office and resolve all questions at once? Both yes and no. I would say, it depends on a specific situation. According to statistics, more than 70% of workers work remotely at least once a week. It is convenient, it makes working hours more flexible, significantly reduces stress level, and, as a result, benefits both employee and employer.
Remote working tools establish collaboration channels between the main headquarters and whatever the place the remote worker might be at. The only requirement – stable Internet connection, and being kilometers away from your office doesn't necessarily mean that you skip your working day. But the next logical question is: how do we choose the appropriate software to ensure that every employer still does their best regardless of their location?
How to pick top remote working software?
It might take companies some time to decide which tool would fit their needs better. There are certain criteria that might help to make a key decision on best tools for remote teams that my save tons of time and finances in perspective:
Company's profile

. Depending on the direction your team is moving into and the product it supplies, your perfect top remote collaboration tools might differ. Do you work with documentation? Do you need to proof design assets? Do you work with video/audio, or maybe your main vector is developing code? This factor will be the first thing you will have to consider.

The next thing to pay attention to will be

the purpose you need the tool for

. Which part of the workflow you would like to automate? Disclaimer: I understand that it would be great if ALL processes were automated and done by the machine, but it significantly increases the risk of the Terminator movie becoming real with all that Skynet thing

.
Company's size

. Depending on this characteristic you will have to calculate how profitable this or that tool be for you. Besides, consider that the bigger number of workers will be using the tool, the more time you might have to spend to educate them on how to do it. There are countless free tools, and there are some you have to pay for, so choose wisely, because your company size might be vital when you decide what…

Pricing you can afford. Your turnover and budget might be somewhat restricting, but no worries at all – the tools we are going to discuss are either free or quite affordable. This actually means that we can jump right into it without further ado.
Best remote working tools
Approval Studio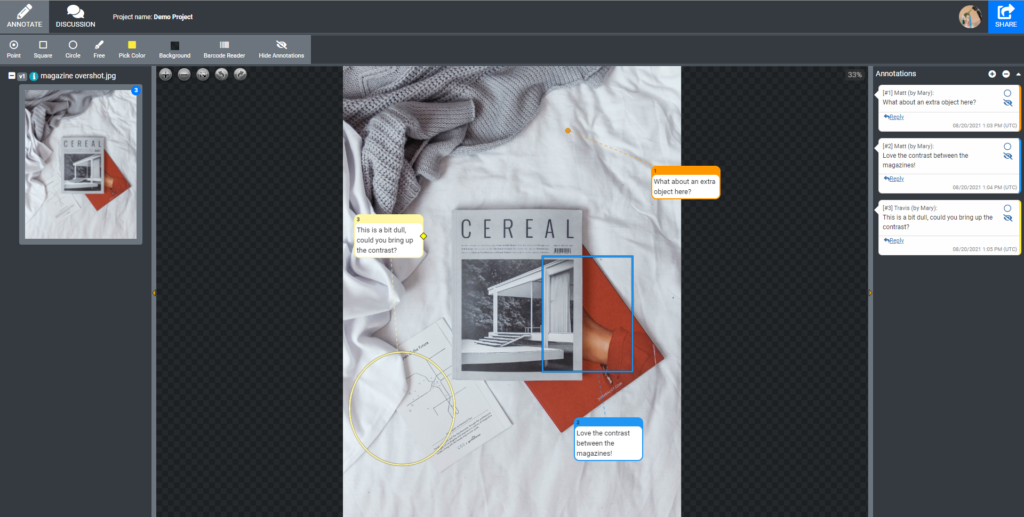 Approval Studio is a perfect solution for those who want to manage a design project. If your project has a multiple reviewers all in different places who have to approve the design, it will be your best bet. The application has a range of interesting features that include:
The ability to mark-up documents of various formats

Control their versions checking the differences between them with one of 4 compare modes that have no alternatives on the market

Users can track the project's progress with the detailed Project History logs and generate a separate report for external reviewers – a.k.a. clients – that enable them to understand how much time was spent for each task.

What is more, all reviewers can discuss the assets in the comments in real time without any need to refresh the page.
Tell me it ain't beautiful! However, there are certain drawbacks:
Video proofing is still in beta.
However, the dev team is constantly working on new updates, so I recommend you checking release notes now and then!
Starting price: free trial, $35 per month for 5 users.
Google Drive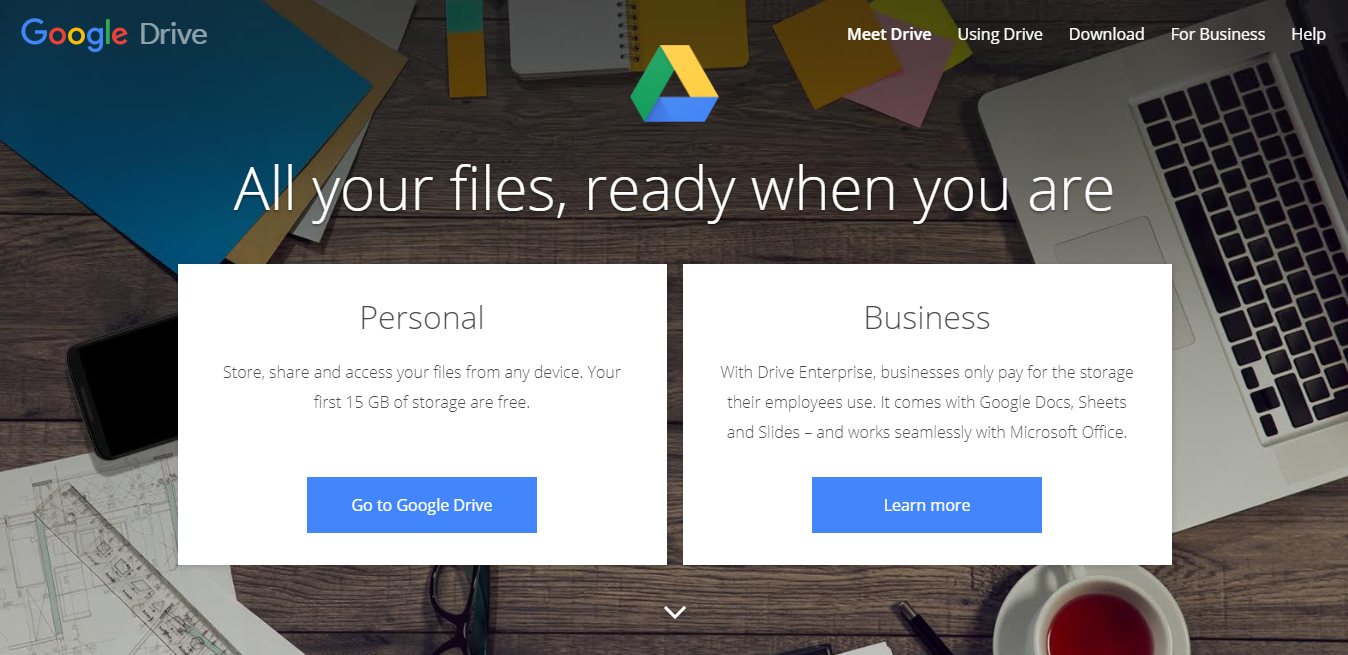 Google Drive, an old buddy who's been there for us for years and years already! A brilliant solution that helps whenever you need to exchange the information fast. It is a perfect tool that can save your arse in the most inappropriate moment even if you have nothing but phone to use at a hand because of its cool features:
Creation of Google Docs and Google Sheets and Google Pretty-Much-Everything.

Free 15 GB of cloud storage that you can access at any time and any place.

Simple and convenient sharing possibilities.
Google Drive has been making the lives of thousands of remote workers easier for quite a while, but still there are some minor flaws like:
Might be slow sometimes, although still better than most alternatives.

If you have created some document in MS Office and want to further edit it via drive, complicated formatting might go down the drain.
Starting price: free, $2 per month for 100 GB.
Dropbox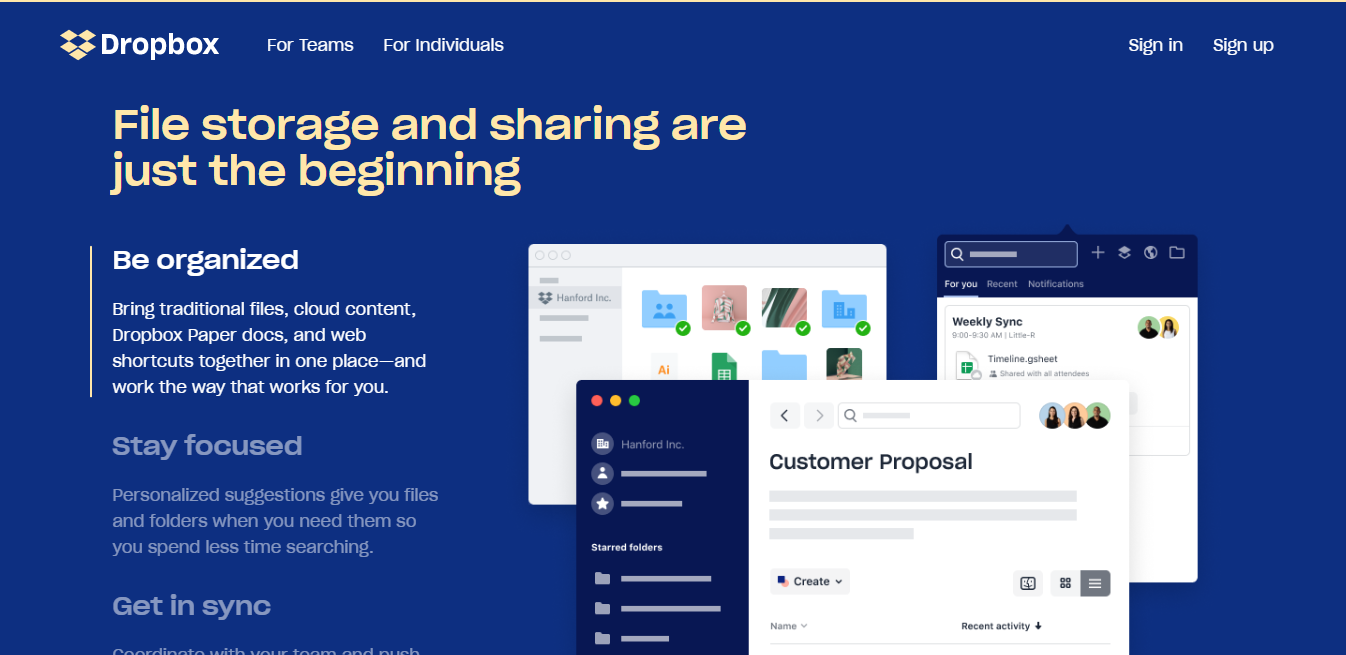 Imagine a perfect file exchange platform and you get Dropbox. I would call Dropbox the older brother of Google Drive that I would personally use for the information that my team would need access to more frequently and permanently.
Share, collaborate, sync your files, integrate it with other tools.

Different plans both for individuals and for companies make collaboration very easy and productive.

Dropbox free offer provides up to 2 GB of storage, but the pricing for more extended amount of services is more than reasonable.
Both office workers and remote collaborators will find Dropbox very convenient, however there are some fallacies as well:
Underdeveloped search capabilities, mainly in terms of metadata.

There were several security breaks in the past.
Starting price: free, $10 per month for 2 TB
Zoom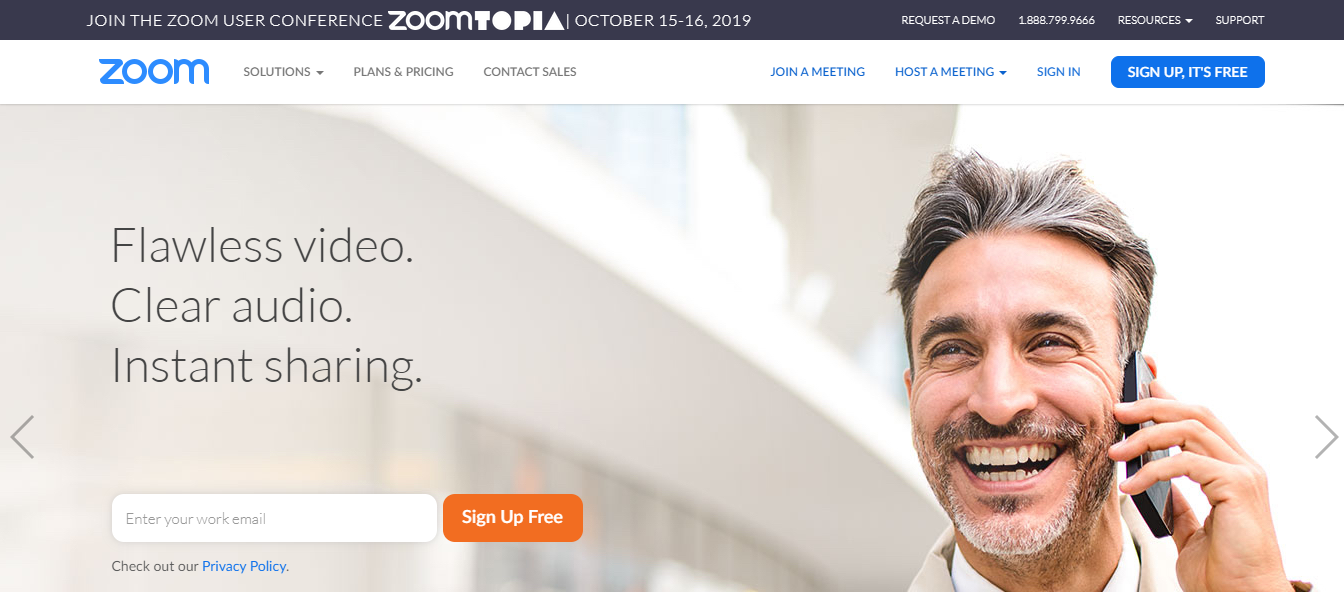 Meetings and interviews are an inseparable part of the teamwork regardless of the company's sphere. Zoom is probably the best possible solution to arrange calls not only with clients, but also with remote workers. The main benefits of Zoom are:
Video and audio quality that are limited practically only by the device you are using.

Password protection for meeting rooms.

Calls scheduling.

Ability to communicate in both chats and annotations to the presentation.
It is hardly possible to name a better alternative to Zoom nowadays, but there are some minor inconveniences as well:
The program doesn't warn you when two meetings overlap.

Zoom has many cool features like auto-recording and stuff, but you have to dig them on your own because there are not a lot of training materials.
Starting price: free, $15 for Pro plan.
Evernote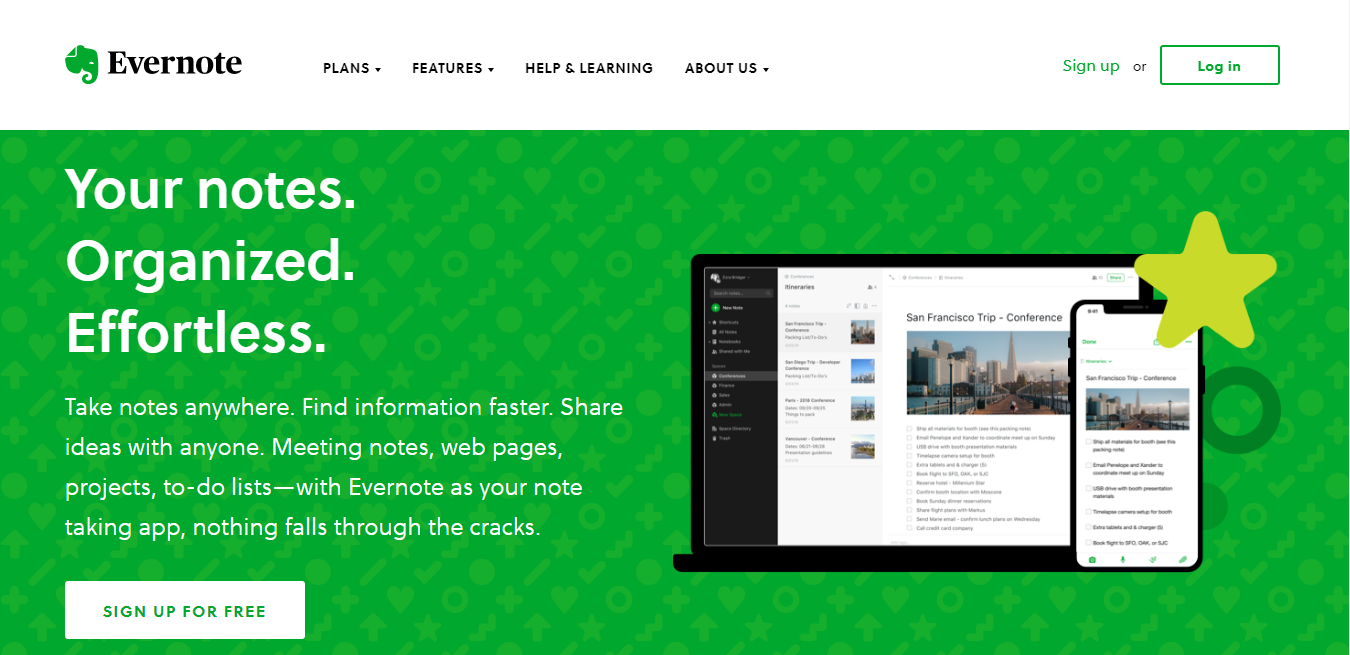 Whatever the format of your note if, Evernote will always be a great solution for creating and managing information of different kinds, and, most importantly – for sharing it. With Evernote, you can:
Set reminders, add pictures or voice to the notes manage small projects or even the whole campaigns.

Manage the note templates, sync or clip them, search for whatever you need to search in the handwriting.

Integrate other applications.

Use free Skitch add-on for simple mark-up functionality.
However, at the same time, you can't:
Password-protect desktop version and individual notes.
Starting price: free, $8 for Premium plan.
Slack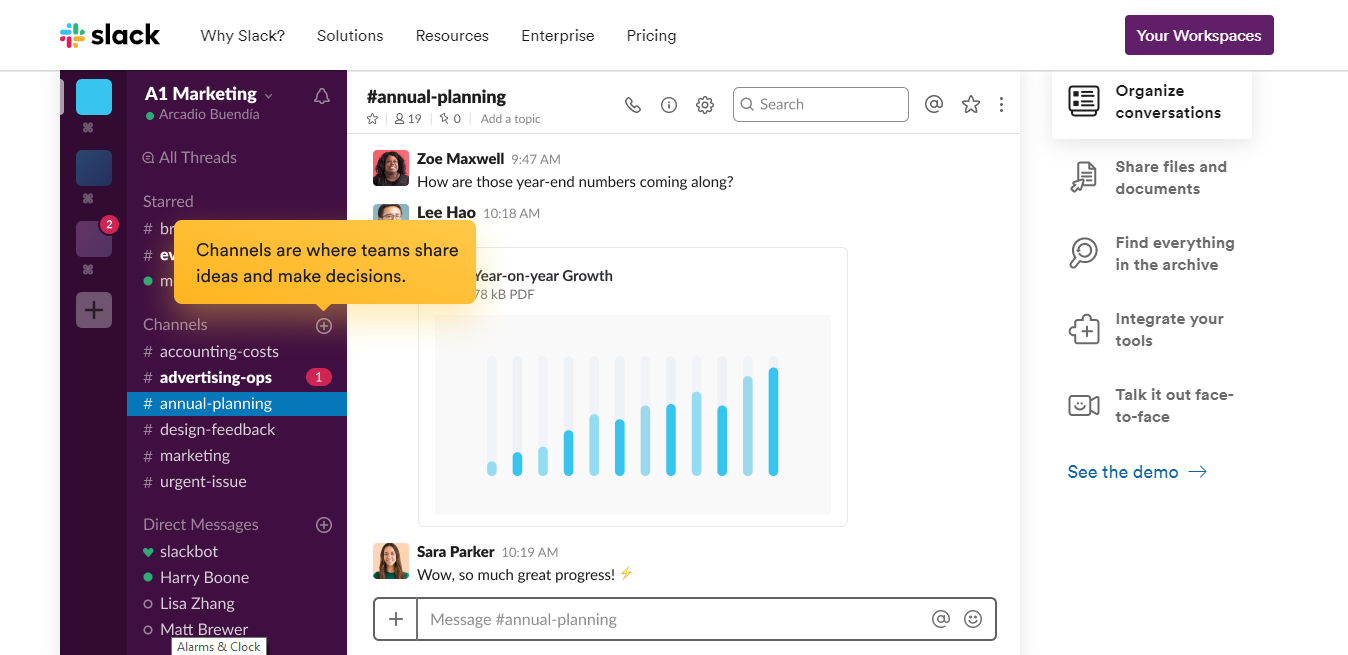 Slack is a very popular remote collaboration tool for instant messaging, and for a good reason. Being the most actively used messengers for team collaboration, Slack is often integrated into other apps for convenience. But integrations are not the only cool thing about it:
Great user-friendly interface, customizable notifications.

Channels for better workflow organization that can be archived if inactive.

Bots you can add to them make Slack a perfect tool for inner communication with your entire team.

Quality voice and video calls.

Your own personal workspace where you can save important notes or files.
However, nobody's perfect:
The desktop version eats up a lot of your computer resources. And I mean it.
Starting price: $6.67 per person per month.
Trello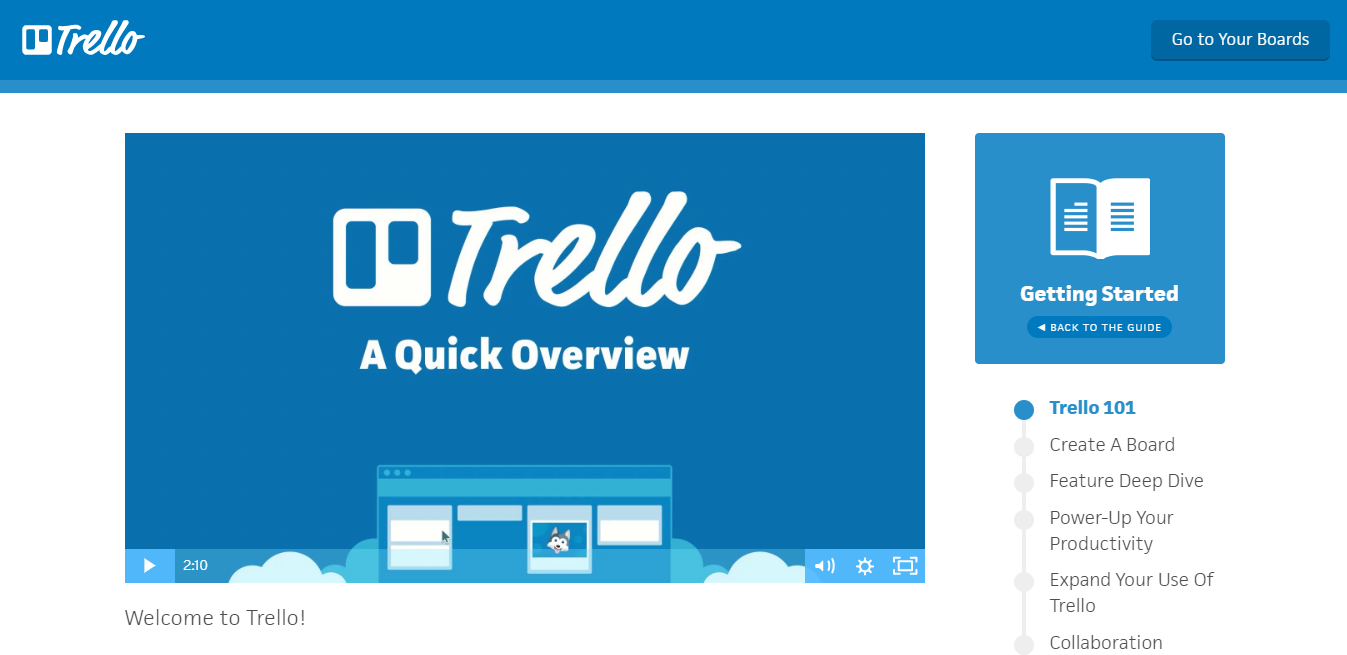 If you still put sticky notes on your fridge to organize your tasks and working process, it is a high time to think about switching to Trello. It is one of the best tools to manage remote teams. Why?
You and your teammates can have access to your company's board literally from everywhere, and it is not necessary to go to the exact same fridge every time you want to check your to-do list

.
Its intuitive and simple Kanban interface makes it convenient for employers to sort out their workflows.
Managers can assign tasks to different team members and set deadlines, workers can add comments, attachments,

and transfer cards they are assigned to different columns whenever the task moves to the next stage or archive it when it is finished.

Trello boards are highly customizable and the only limit is your imagination.
Almost perfect, but still:
There are no gantt charts and calendar which are essential for project management.
Starting price: free for 1 user, $10 per user per month for team plans.
Teamweek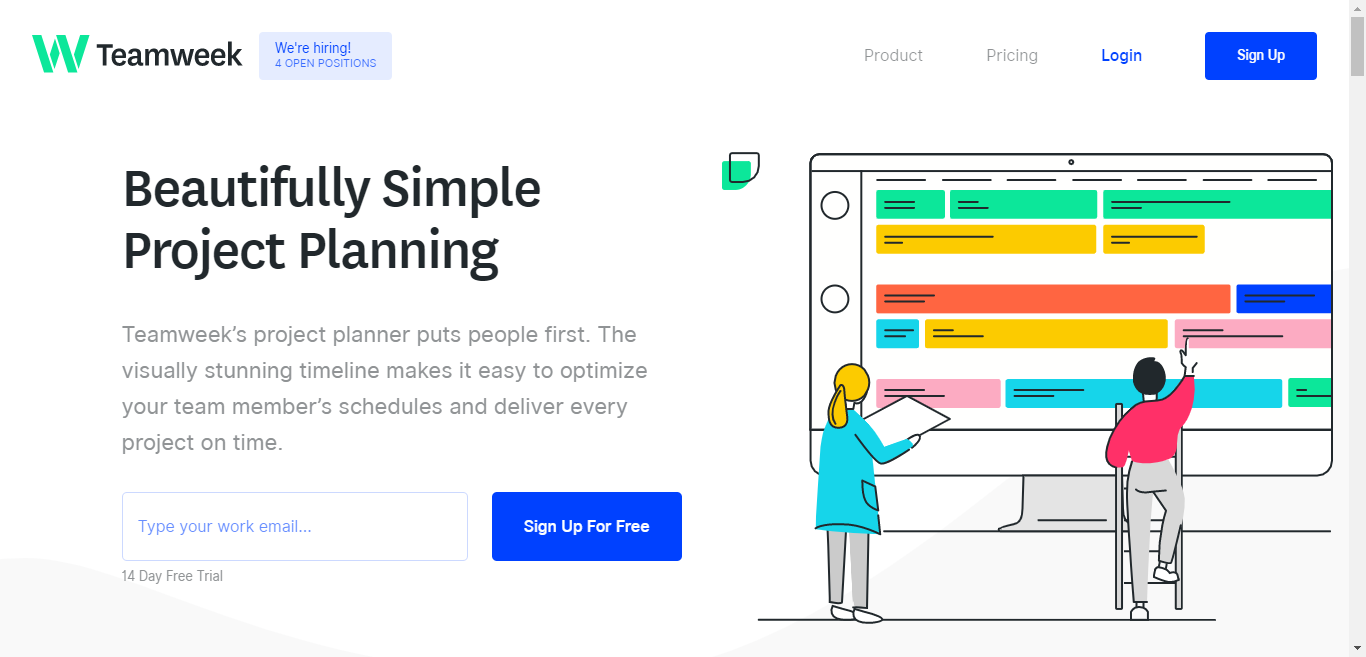 Teamweek is also one of the best tools to manage remote workers. Trello is great for project management, but the one thing it surely lacks is visualization. With its graphical representation of task streaks on a calendar, Teamweek provides you with:
A much better idea of your upcoming workflow and a general picture for the whole team.

Understanding of how interdependent the processes are and how changes in one task might influence the other.
People say that the only thing it cannot help to forecast is the weather in Great Britain, but we've found one more downside:
Customization capabilities are restricted to colours for projects and tasks.
Starting price: free for 5 people, $35 per month up to 10 people.
GitHub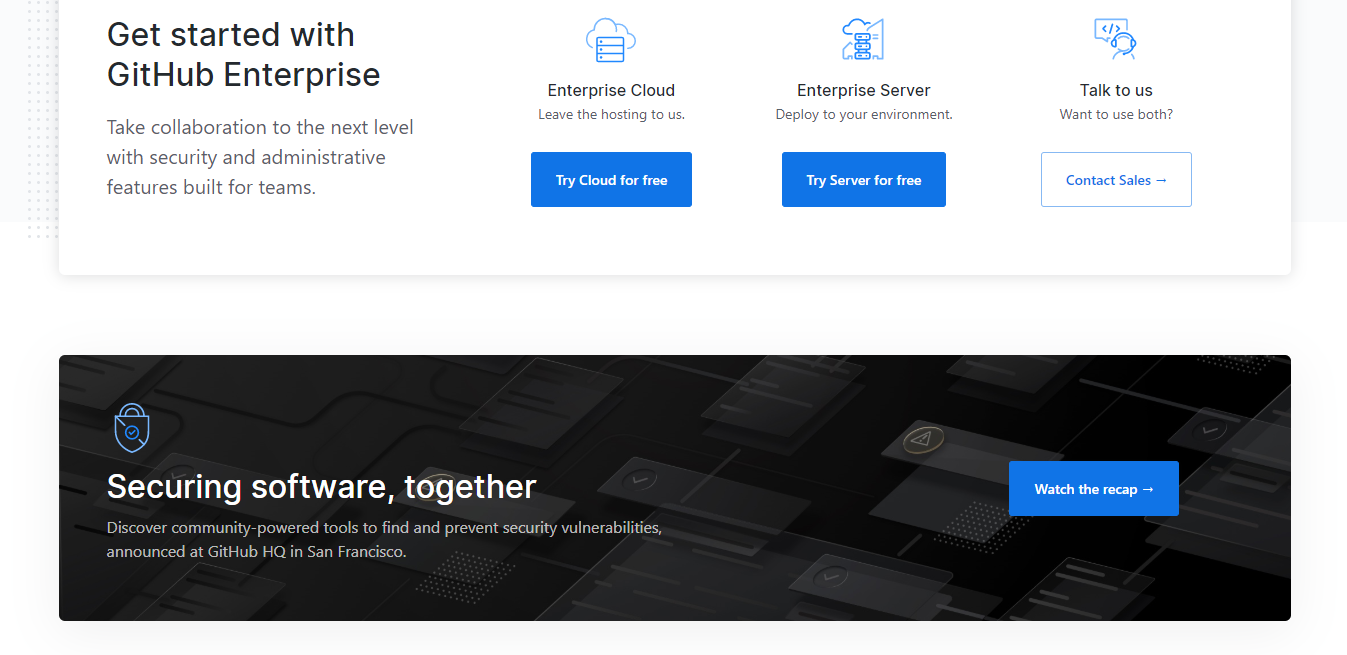 GitHub is a self-proclaimed world's leading software development platform that's been around for developers since 2008 (geez, it's 11 years already!). In their case, self-proclaimed can only mean that there are no worthy enough competitors to claim the crown. Their slogan is "Social coding" which instantly lets the new users know that sharing with the others is appreciated on this platform. Besides operations directly on code, GitHub can also provides:
Storage for documentation.

Issue tracking and commits history.

Graphs, task-lists, and etc.

Both private and public repositories.
Everything is highly customizable, but what else would you expect from a top-notch development tool? The only issues to fight with are:
Might be a little complicated and confusing for the newcomers.

Not good for tracking design when you need to translate them into code.
Starting price: free, $7 for pro plan with more tools.
TeamViewer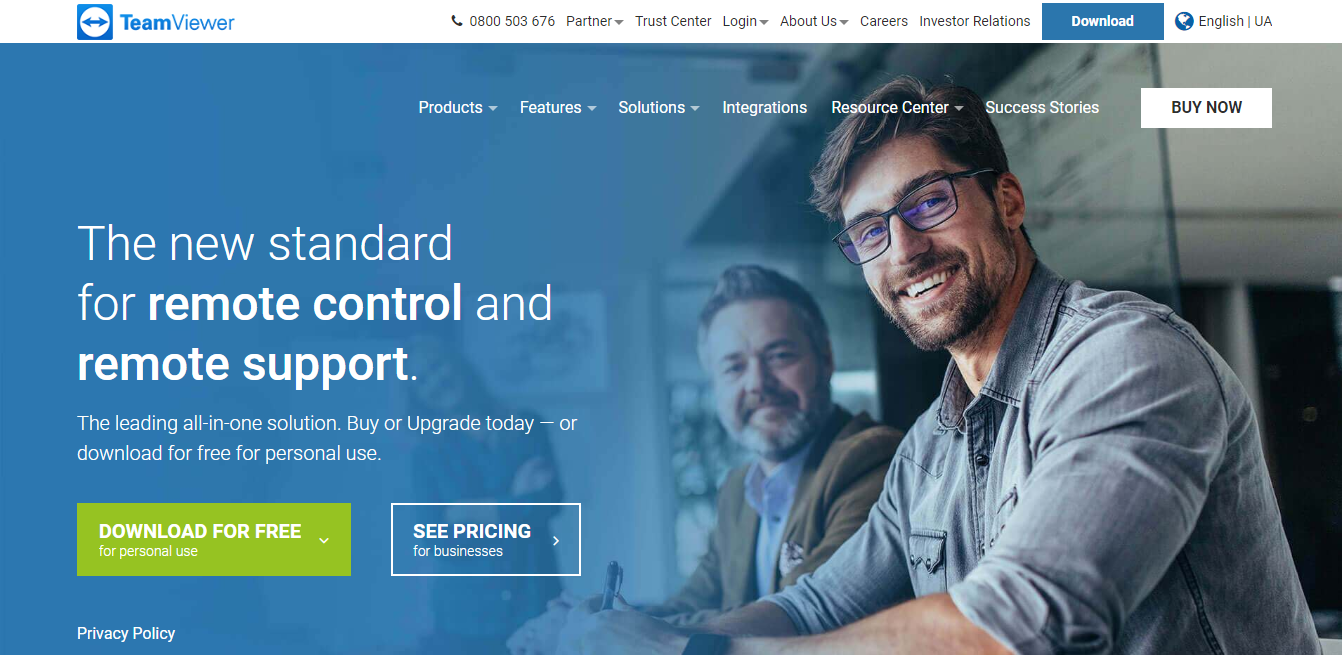 Has it ever happened to your that the whole workflow is because of some error or problem that happened on one of the worker's end? You need to eliminate it as soon as possible, but the end-user does not know how to do it and needs the help of colleagues. In some cases, screenshots or even screen demonstrations via messenger call might not be enough. TeamViewer is something that comes to the rescue in such a situation – it is a remote desktop control software that enables you to connect to any other device you've exchanged the codes with. The main features are:
Can be literally on anything, starting from computer and ending with your phone.

You can drag and drop files from one device to another.

Best security standards.

The best tool for integrated remote monitoring and management.
Although TeamViewer can really be a game-changer in certain situations with remote employees, there are some minor cons:
It can't work with proxy servers.

Huge files might make it sluggish.
Starting price: free for non-commercial use, $49 for a business plan.
Final Thoughts
Remote collaboration has never been an easy thing, but with the right choice of remote work tools for remote teams, it can definitely provide numerous benefits for your business. Regardless of the sphere, you are working in, using remote tools as a solution to your workflow automation, collaboration, and communication between the team members is an inseparable ingredient of a successful project. There is a multitude of tools out there, and we have tried to pick the most useful ones for you – let us know what you think about our best remote work software picks in the comments below!
Also, I would like to give you a small reminder that Approval Studio offers a free 6-month Pro plan in exchange for your feedback if you become an influencer. We can also arrange a free personal demo for you and demonstrate how proofing visual assets is not a problem anymore. Drop us a line if you are interested, we will be happy to hear from you!