Usually, our Creative Talks articles have a fun little intro where we tell the readers about the series and post links to the previous entries. This time will be a little different due to the topic.
I believe that our readers know about the full-scale war launched by russia against Ukraine. It is an unprovoked attack against a peaceful country that only desires freedom and prosperity for its citizens. The war actually has been going on in Ukraine since 2014 and entered its new phase on Feb 24, 2022. By no means do I want to make this a history lesson, but I believe that our decision to make a blog entry on this topic needs a little more context.
We could not stand aside in this situation. One of our development offices is located in Ukraine, so it hurts us badly too, and we want to help as much as we can. Approval Studio was created for designers and creative teams, and creativity, in our opinion, is an important aspect of culture and everyday life. We talk to the community a lot, try to ask their opinions on different topics, and first, we asked them on Twitter how design and art can help in such terrible times.
The next logical step was incorporating the Creative Talks series with our desire to help. We've contacted Ukrainian designers, artists, and illustrators and asked them some questions about their creative frontline:
How would you characterize the Ukrainian creative frontline? What do you think makes it so influential and powerful in today's realities?
How do you think design, illustrations, and other creative initiatives help in the russo-Ukrainian War?
Could you please tell us more about your piece(-s) and what message(-s) you want to convey through it?
There were a lot of passionate and heart-wrenching answers, but I will not comment on anything further on. Let the artists and their creations speak for themselves. The only thing I would like to say is that we've got so much material that there are Part II and Part III of this article, and I recommend that you check them out. We've put a lot of work into these entries and would appreciate it a lot.
Down below will be the list of the trustworthy charities you can donate to; you can find a quick link to this section below. Also, if you're volunteering or taking part in non-profit projects aimed to help Ukraine, we can provide you with a free license of our review tool.
I hope you'll have a good read. We also thank everyone who agreed to participate in this project, you people are amazing.
Glory to Ukraine.
Mari Kinovych – Illustrator
Mari Kinovych's Instagram and Behance
We have a lot of specialists who braced themselves at such a difficult time and continued to do what they could. From the very beginning, I did not have much strength to draw something, but I saw the work of my colleagues, and it inspired me not to give up. Although, I don't think anyone should feel guilty for not having the ability to work right now because it's a relay race: I'll do something today, you will do something tomorrow. And this is an incredible feeling of unity for all of us.
This is the most documented war in history, you can see videos and photos from every place in Ukraine, and you can see what is happening 24/7. But no one can perceive the image of cruelty for long — over time the pain threshold is lowered and we are no longer shocked. And here, illustrations can do more than words and photos because they are no longer about raw emotions. They are a particular narrative that can convey information better.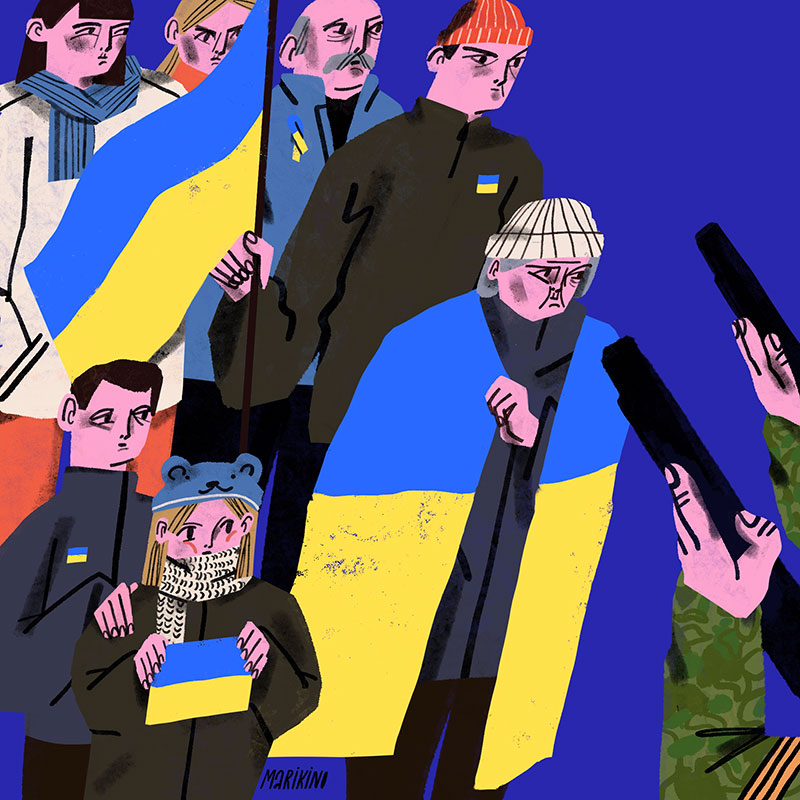 This is one of my favorite pieces because here you can see how brave Ukrainians are. Even when russians threaten them, they stand still and claim their freedom.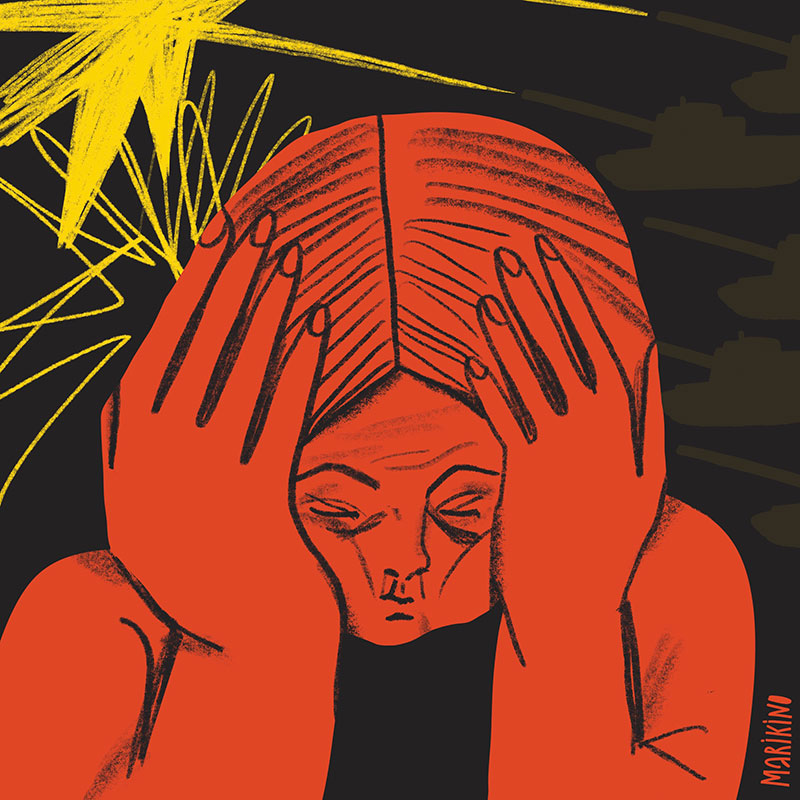 This one depicts the anxiety and fear that we all are experiencing now.
Zhenya Oliinyk – Illustrator
Zhenya Oliinyk's Instagram and Website
Ukrainian creatives are first and foremost Ukrainian citizens. Unlike people in russia, we don't think that art can be easily detached from politics. Before the full-scale russian invasion, we weren't just artists and illustrators, no. I personally had a strong focus on projects about human rights, feminism, history, culture, and education. Art has never been a form of escapism for us; we all have solid stands on politics and societal problems.
The illustrators' community in Ukraine reflects what's going on in local and international media. I have a lot of editorial work now, and I feel that this is common among my colleagues. We sell out art to collect money to support our army. Sharing information in an accessible form and donating is crucial now, and that's what we do.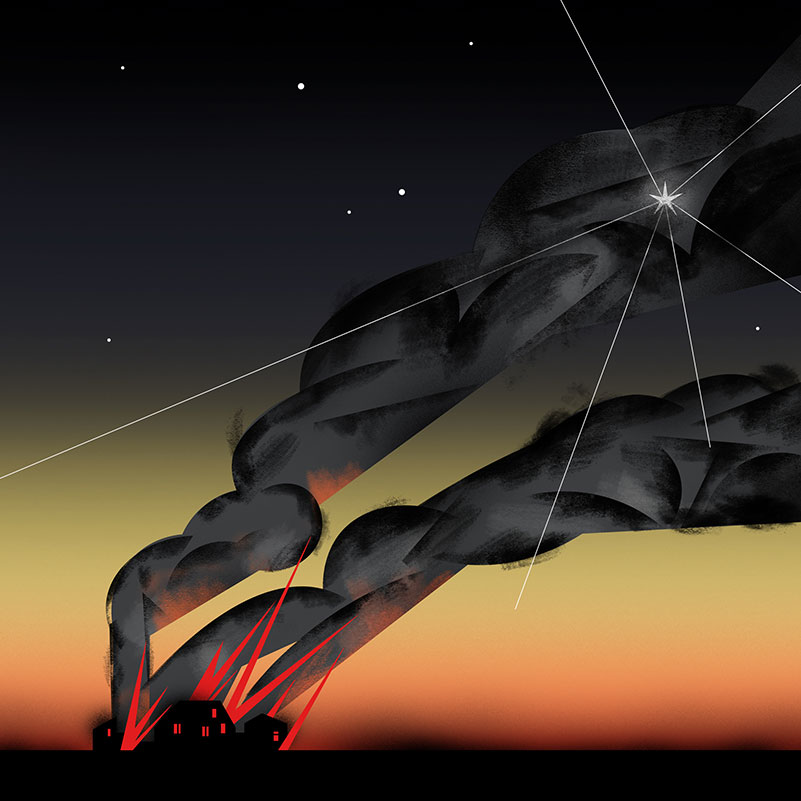 I really struggle with depicting war as it is: with all the fume, fire, and ruin. This illustration for The New Your Times is the one time I managed to do that. It's actually a piece about the hope that inevitably shines through all the horror.
Stanislav Lukas – Concept Artist
Stanislav Lukas' Instagram
Terrible things are happening in my country now. But we must win because we stand for truth, independence, and freedom, for our children at our home, on our land. And now, we have to live not only under fire but also under pressure on the cultural front. Art is a powerful weapon in this war. It carries the Ukrainian code of strength and spirit that helps us in difficult moments.
Regarding my work, I can say that the root cause of these posters was my people's motivation to stand up for their country. The motivation to believe in their Armed Forces and victory, motivation to believe in the Ukrainian spirit, and rise morally to fight barbarians.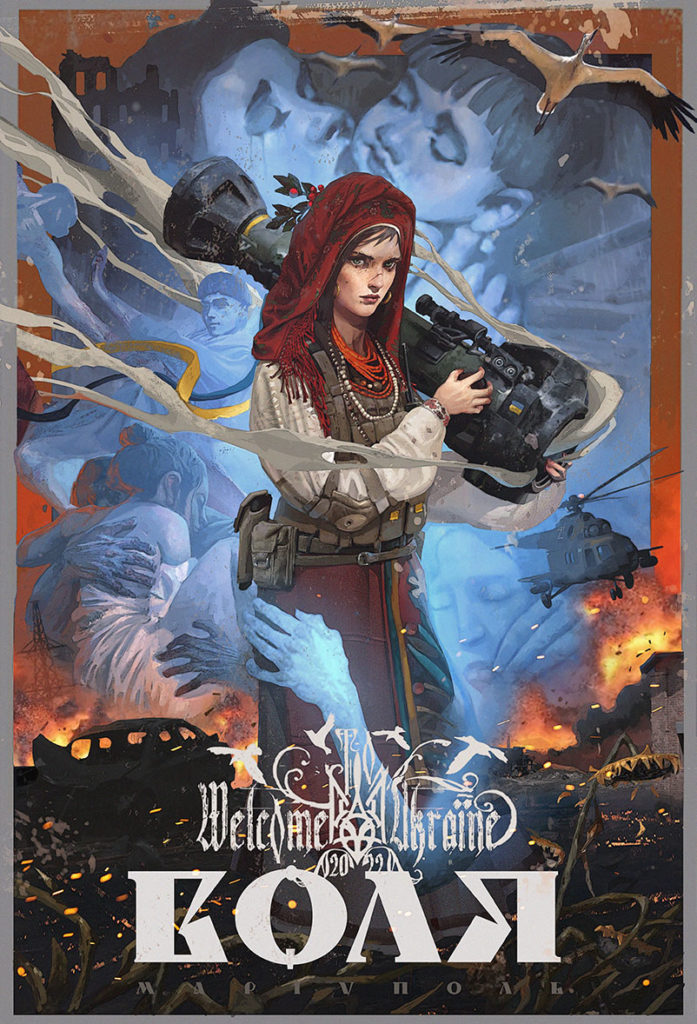 The second reason is to tell the world about our story in the language of art, speak about what is happening to us, and how we need support and faith.
And the third appeared on its own afterward – the monetization of art. When people heard and saw this story, many wanted to support my work morally and financially! People from all over the world ask me to give them the right to print the posters, mosaics, and T-shirts, want me to take part in exhibitions, print paintings, or just give me money that I distribute to the army through people I know well. Now I spend money purchasing body armor, helmets, walkie-talkies, and drones with thermal imagers.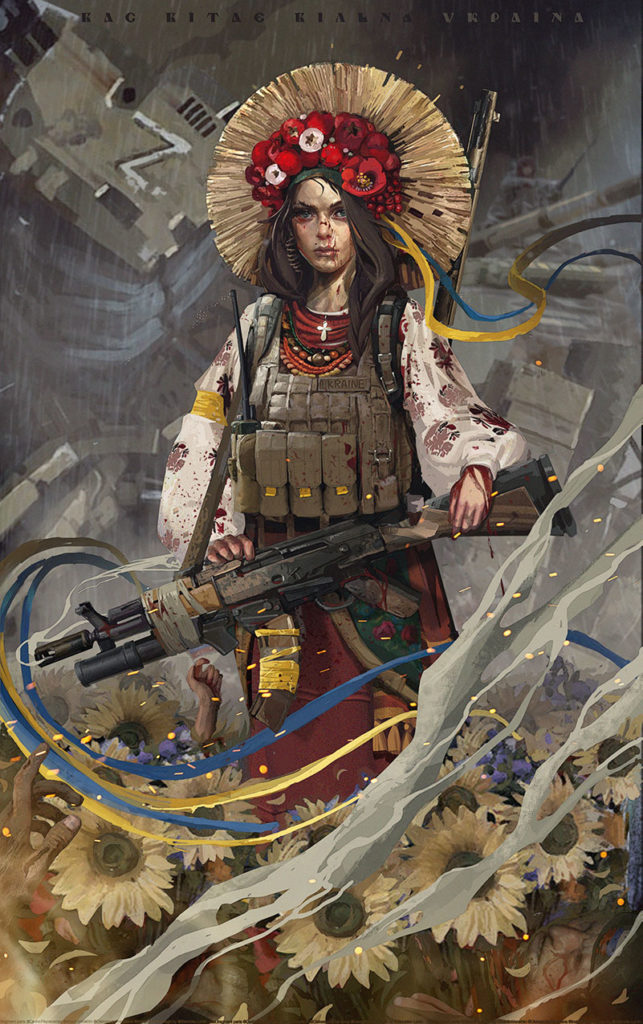 In my posters of war, the appearance of women is a symbol of fragile peace and a balance of power. It is a symbol of beauty and motherhood, which could be identified with the spirits of our country, the souls of Ukraine. All women are depicted with weapons in their hands, which means that we will stand to the end, that our land is our home, our freedom. My works tell us about the symbols of this war and its tragedy.
Mykhailo Skop (Neivanmade) – Illustrator and Artist
Mykhailo Skop's Instagram and Behance
Since the beginning of the war, Lviv, in fact, has become a cultural center of Ukraine as creative people from the entire country have come here. Many of them joined the fight against the muscovy horde in their own way. Lviv is like a cauldron of creative people who would have never gotten to know each other in different circumstances. Countless new acquaintances, unexpected collaborations, and creative enthusiasm, in general, bear their fruits. The quantity and diversity of the content allow us to speak about the fully-fledged cultural frontline. I believe the majority of such initiatives are doomed to continue after our victory. That's why I am sure that Ukrainian culture is destined to blossom like never before. And modern Ukrainian culture in bloom is a proper nail in Mordor's coffin.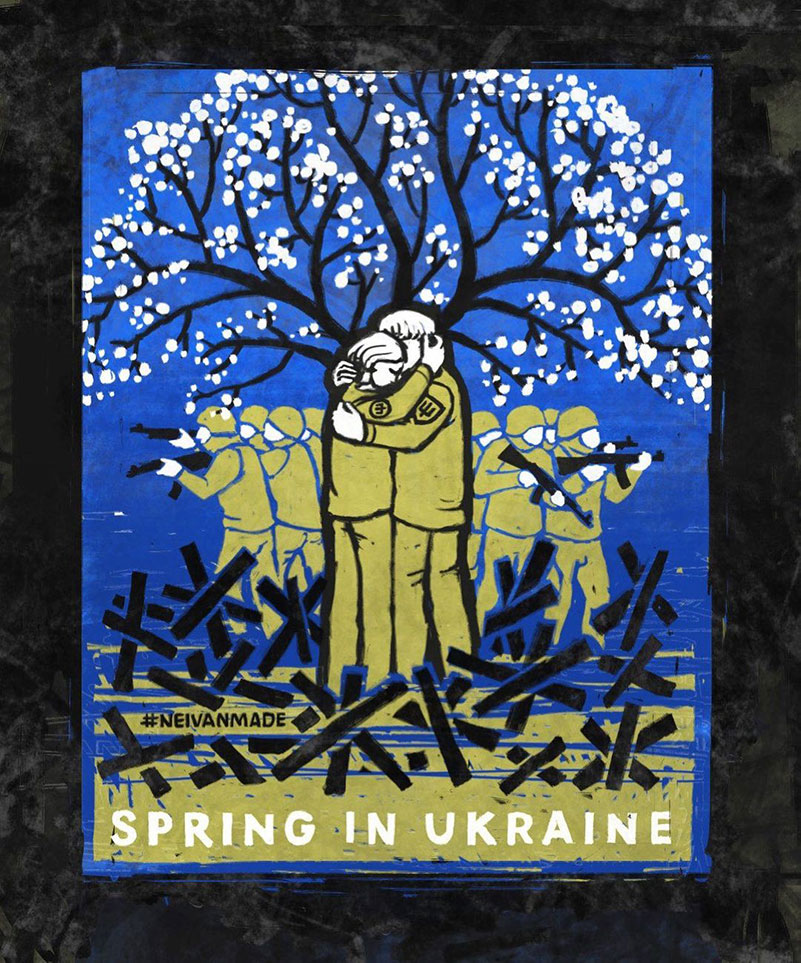 Our modern world is a global village. It makes the phenomenon of "death on live broadcast" a reality, where hundreds of thousands can watch a global catastrophe live from every corner of the world. On the other hand, information overdose causes clip-thinking: the information is perceived quickly and superficially because it is impossible to concentrate on something specific in all of that info noise. That is why any documentary photos and videos from the demolished Ukrainian cities mix up with similar content from the other war zones, which makes the potential viewer lose empathy towards it and their interest. The role of Ukrainian artists is not to allow the disappearance of our country from the information frontline. That's where we should get creative. As an artist, I believe that art has power. An image that touches the right strings can break through the info-noise and grab the attention, disregarding any geographic, language, and cultural barriers.
My main task is to speak through images. The main character of my works is the Ukrainian people as the subject of the fighting. I draw not specific people but their personified unity depicted in the archetypes. We will remember unthinkable grief and a remarkable feat of the Ukrainian people, while specific names and faces might be forgotten sooner or later. Various memes get the most attention, not the stories of particular people. For example, most do not know the name of the Ukrposhta [Ukrainian post – ed.] worker who hit the plane or the name of the woman who suggested that occupiers put sunflower seeds in their pockets, but their deeds live in the people's hearts.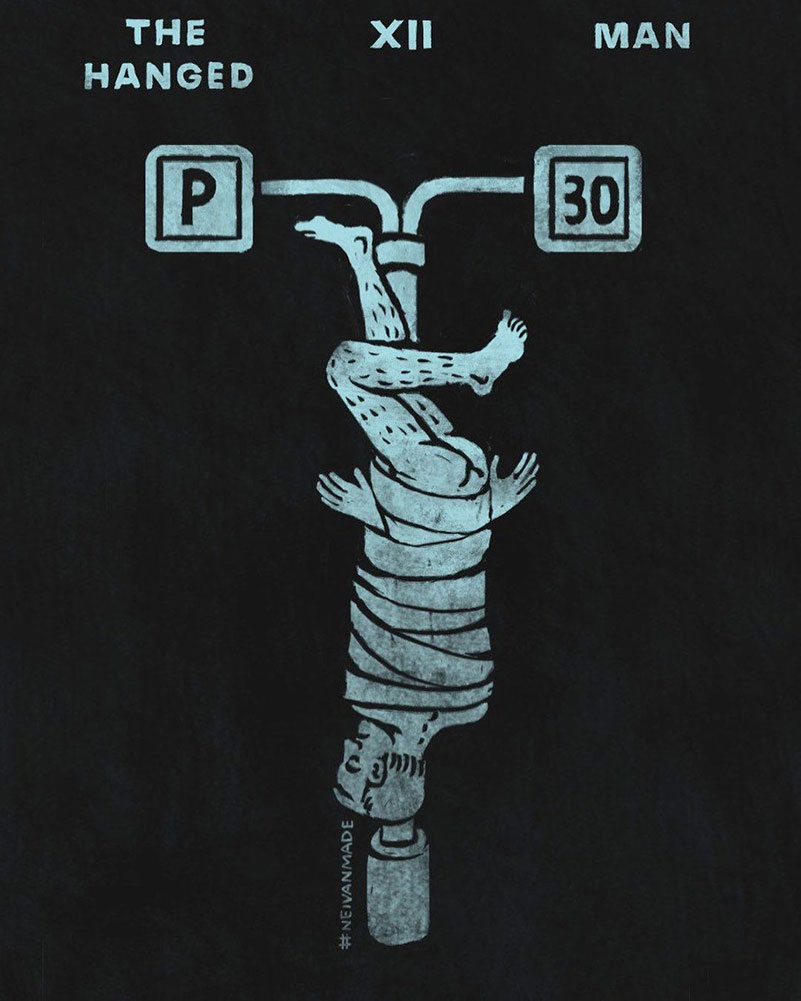 In my works, the idea of the common images is most evident in the illustration series for Major Tarot Arcana called Arcana Belli. In 22 images, I depict the Ukrainian fight against the unthinkable evil. This project combines the classic iconography of Rider–Waite tarot deck by Pamela Smith and images dictated by life itself. Many of them display particular events that my friend and co-author Mykhailo Badelin suggested exploiting. Working on this series, I was often surprised by how similar some cards' plots are with what is going on now in Ukraine. Because of that, I often had to add only slight changes to the iconography so that the compositions could depict Ukrainian reality as accurately as possible.
Daryna Klochko – Illustrator and Artist
Daryna Klochko's Instagram
Ukrainian creative forces have surprised me a lot. Though I was following many talented creators personally, I've discovered so many more these days. And so many of them found their individual and personal yet universal ways to express the hardest feelings and thoughts: about war, death, rape, and violence.
What makes all these works powerful is, first of all, the direct speech of real-time participants. Humans are always the primary focus of other humans, especially in epic or extreme conditions, so the interest in the Ukrainian creators is huge now.
Besides, if we talk about illustration, there are some strong advantages over documentary and reporter's photos. Illustrations may and do provide not only the facts and chronicle but also emotion and opinion on it. One can strongly agree or disagree with it, but the response is high anyway. Social media do not censor illustrations that allow for spreading the word and supporting it with the reflection of reality.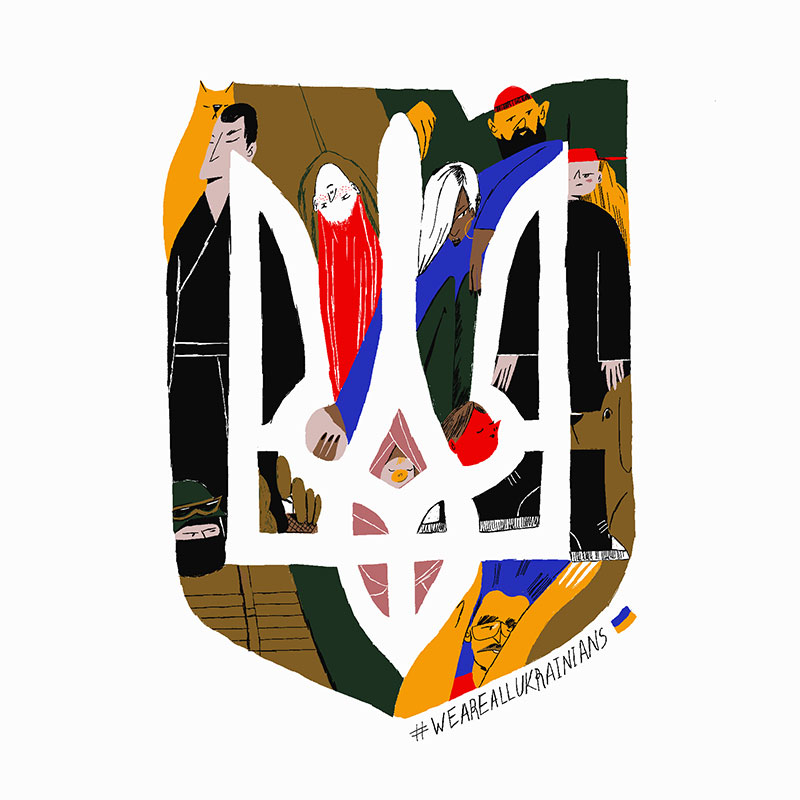 My illustrations are just my own reactions to the events these days. This is my therapy and my way of speaking out loud about what I feel and think. They burst spontaneously out of me. All I have to do is grab the tablet and convert it all into pixels. From my images, you can clearly see that my mood is a rollercoaster from hope and gratitude to anger and hate (I think it's our new "normal" now in Ukraine). So I'll just keep doing my best and taking all the chances to turn the attention to my images into real-life help to our army and volunteers.
Alina Podoliakina (Ada Lemberg) – Digital Artist and Illustrator
Ada Lemberg's Instagram and Behance
I think the Ukrainian creative frontline is powerful like never before. The reason for our unity is the war that russia started. Our people need strength — military, political, and cultural.
In their artworks, Ukrainians express the desire that this nightmare happening on our land ends and the Good wins. We express love for Ukraine, feelings that fill our hearts, and willingness to fight for our homeland on the cultural front. I believe the artists have become the face of the Ukrainian people.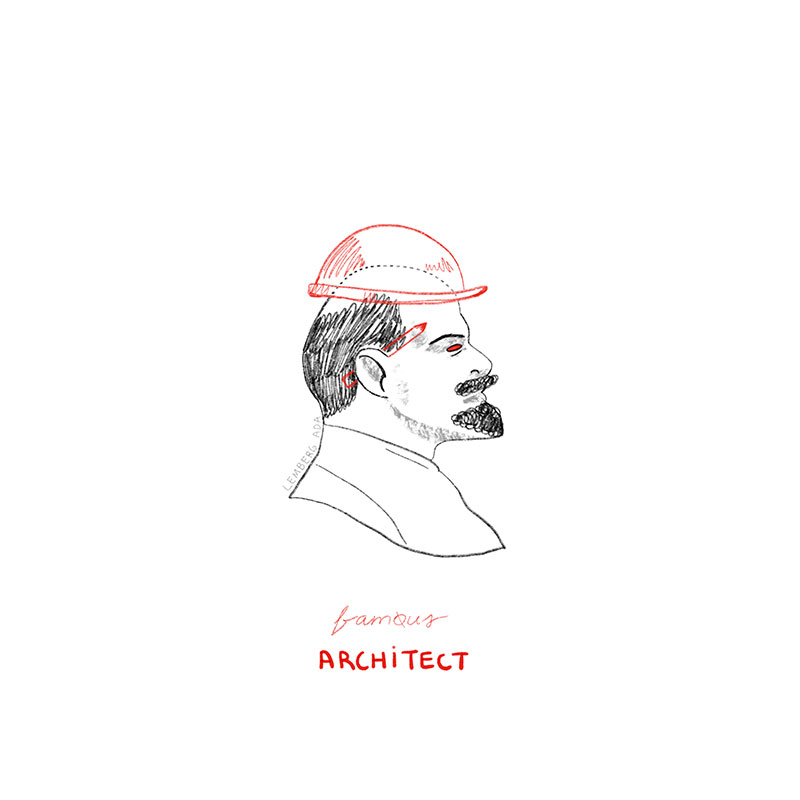 In my art, I like to draw political cartoons. That's why I have so much art about political leaders such as vladimir putin and aleksandr lukashenko, and my latest artwork is "Famous architect" with vladimir lenin on it. Through my works, I want to express contempt for these political leaders.
Yulia Danylova – Illustrator
Yulia Danylova's Behance and Instagram
These days I see how hard it is for us to ignore reality. We are joking about "healthy war-work balance". I can't draw anything entertaining like before, only war. I won't be helpful in the army, and it is fully staffed already, so I'm trying to be helpful with my art like any other artist. Artists can explain some sneaky details, earn money for soldiers with NFTs and print selling, pay attention to war problems, etc. I love being a part of this.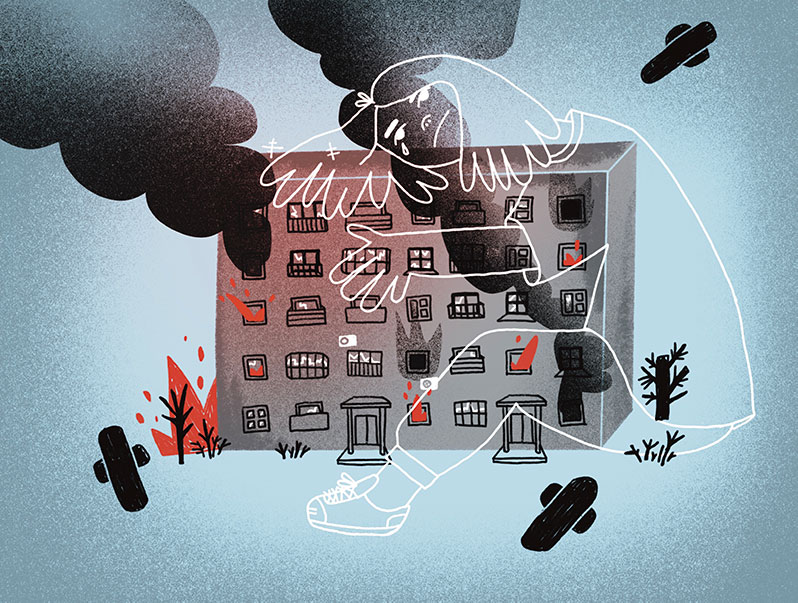 Also, we appreciate the times Ukrainians can create freely. Before independence in 1991, Ukrainian artists were killed, repressed, or labeled as russian. We haven't fully explored our culture and history even today.
Rebecca Larst – Artist
Rebecca Larst's Instagram
Hello. My name is Inna, but better known as Rebecca Last. I am an artist from Ukraine, and I live in Kyiv. With the outbreak of the war, I decided not to leave and stayed to volunteer and help in defense.
The war started by russia united the Ukrainians very much. Almost all people who can now visually or auditory express their feelings do so. These feelings of pain, empathy, and hatred for the invaders being real and impossible to silence make our works very touching. We do not want to be silent and endure — we want to scream about the pain we feel for the destroyed cities, we mourn for the dead, and we believe that we will not lose even to the enemy superior in strength.
Firstly, creative initiatives are very supportive of the public spirit — it shows that the nation is not in the mood for a retreat. The drawings clearly show the image of Ukraine in the eyes of its people — a peaceful woman-defender who took up arms to protect her children, her land, and her home. Secondly, there are a lot of drawings about the victims and the pain of loss; it is our tribute to each deceased. People are not cannon fodder for us — we value every Ukrainian, and every death will be mourned, avenged, and never forgotten. Thirdly, it supports affected children, girls, old people, and innocent victims. I would like to believe that by sympathizing with others, we take a piece of their pain for ourselves, easing the burden of their grief.
The first picture shows the Ghost of Kyiv – a pilot who defended the airspace over my city – my way of thanking the troops for protection. "I will never forgive you for this" — this thought was in the mind of the whole nation after the atrocities discovered in Bucha. When I drew this, I thought there could be nothing worse. But after the news about Kramatorsk, about raped girls, about raped children, I realized that it could. We all know what Swan Lake is in russia. These bloody atrocities should herald the fall of putin's regime.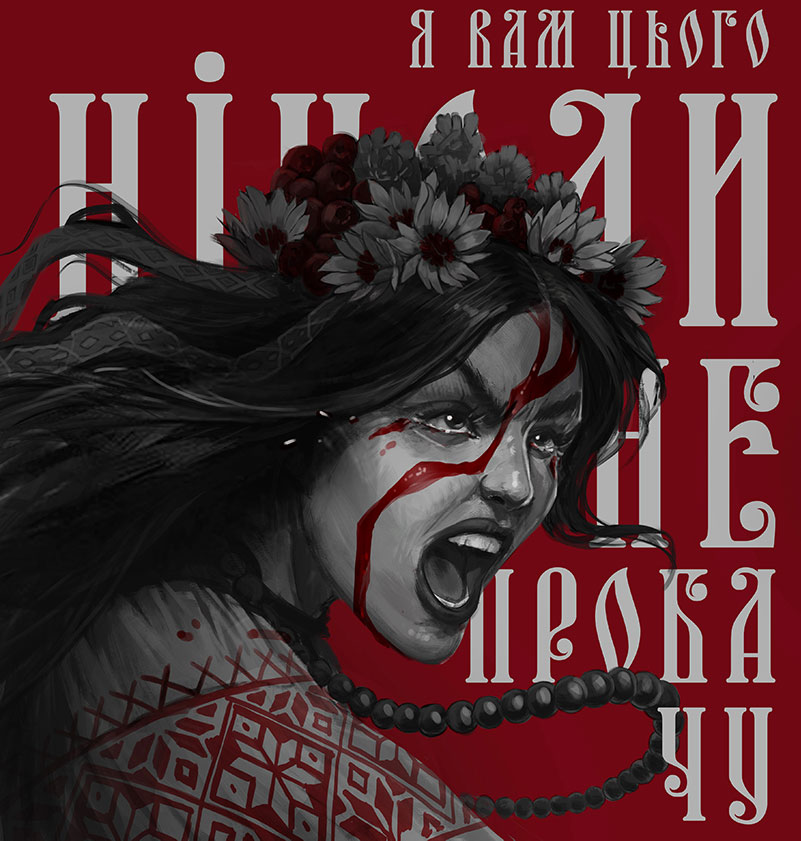 Polina Skurykhina – Illustrator
Polina Skurykhina's Instagram
I used to separate art and politics, but it became clear that we can't stay aside during the war, and now everyone knows it. Art can be used as propaganda, but also it can calm you down, motivate, and lift your spirits.
I would never think you could volunteer through art, but since the war started, many people contacted me asking permission to use my illustrations to print them on the clothing, etc. Surely, I agreed as all the costs, or at least part of them, will go to the UAF [Ukraine's Armed Forces – ed.]. I was very happy that I can help my country in such a way, and that's why I believe that art of any kind can help us fight the war against russia. Creative frontline is an instrument to tell the whole world about the war here and about how peaceful people die. Before the war, I didn't have my own style and used different approaches, but our common grief pushed me to find one. First and foremost, I wanted to draw using only the colors of our flag to make it clear that my works are about Ukraine.
Since the war started, I was forced to leave the city of Kyiv where I live. First couple of days of the invasion, I couldn't pull my thoughts together as if I'd forgotten to wake up from a terrible dream. Several days passed, and I decided to snap out of it and start drawing what was hurting me.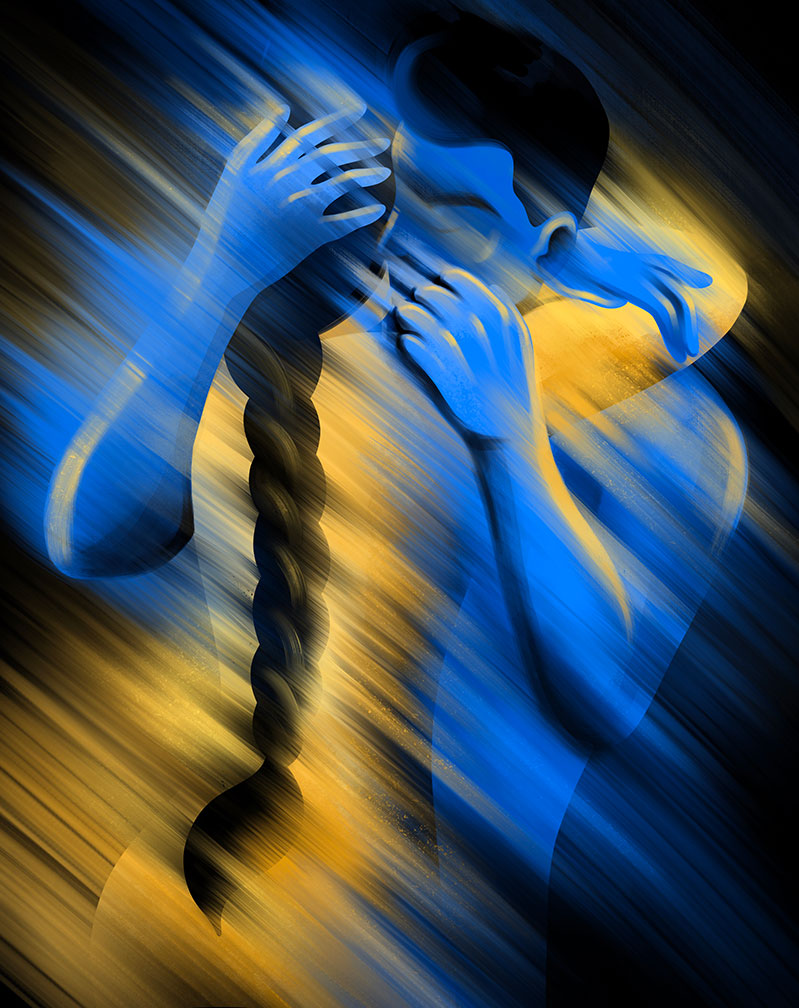 At first, I drew an illustration of my internal state and the way I feel about the separation from my loved one. I was sad after the war took us apart. A lot of people told me they liked my work because they felt the same, and it motivated me to continue.
So, in my second illustration, I drew a girl in blue and yellow colors and the enemy-colored rockets flying at her. With this one, I wanted to show that Ukraine is a peaceful, kind, and beautiful country, but now these rockets can wipe her off the map.
That's how this series of drawings in blue and yellow and in similar style was born.
Marta Koshulinska – Illustrator
Marta Koshulinska's Behance and Instagram
The Ukrainian creative front is crucial now. With the help of illustration and creativity in general, you can sometimes say much more than with words. This makes it easier to attract attention and reach deeper into the heart to share your emotions and perceptions.
Clearly, creative initiatives are now helping in many ways. To raise the Ukrainian spirit, fight against russian propaganda, convey the truth to a broad audience, and show the world the rich cultural heritage of Ukraine.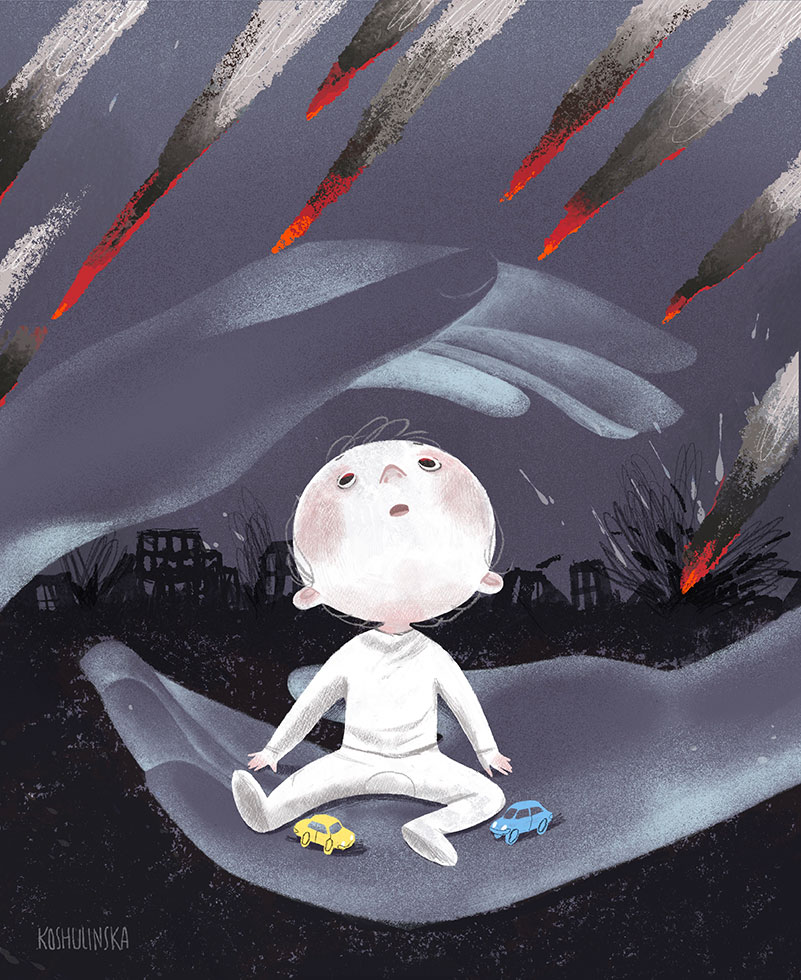 In my illustrations before the war, I always tried to give good and positive emotions. Now it is more difficult, sometimes impossible. Therefore, with my works, I try to convey the truth and appeal to human feelings and call for keeping the focus and helping the Ukrainian people.
Susanne Lichtenberg – Illustrator
Susanne Lichtenberg's Instagram
The understanding that now we are all at the frontlines gives artists strength. Someone's weapon is military equipment, someone cares for themselves, and an artist's weapon is art. The war has affected and united us all, so we depict our personal pain and, therefore, the pain of the whole country. To some extent, this is art therapy. But it is also a contribution to the cultural war. Every pro-Ukrainian illustration is now a brick in a majestic national identity building.
A considerable power of creativity is performing communicative and informative functions. People find out about our experiences, learn news, admire illustrations, and share them with others. This is the way to document history and spread information. In particular, the information about numerous Ukrainian artists, who have various art styles and create modern Ukrainian culture.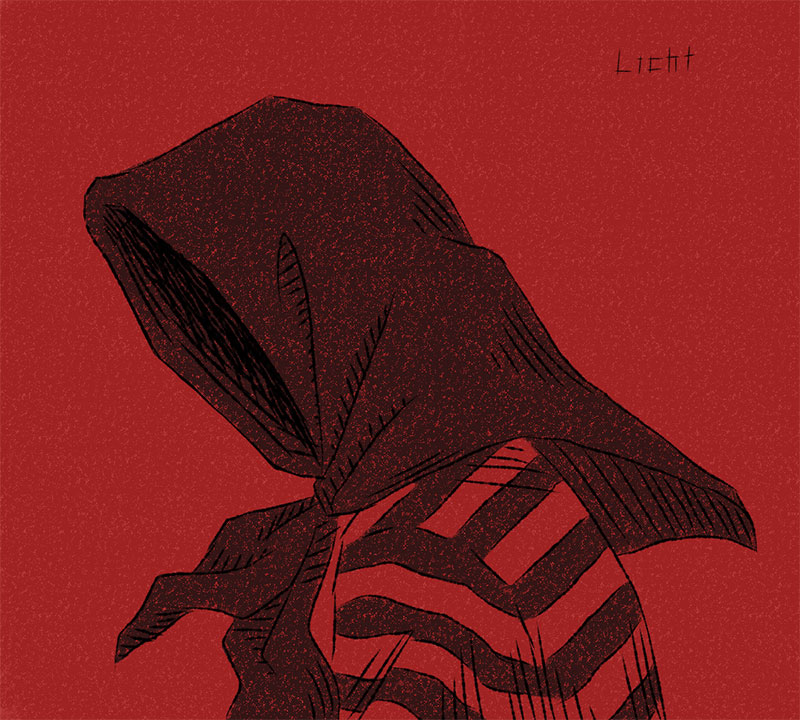 My recent illustrations reflect my usual pain but ten times more severe due to the war. They are about insomnia and night anxiety because of russian "generosity" and traumatic experiences such as refugees being taken into prostitution/sexual slavery or multiple gang rapes of women and children by hostile soldiers. They reflect my own rage about the flow of shit that the russians proudly call "russian world".
All illustrations contain red elements because each war is red. Our suffering is now painted in white-blue-red though. There is another story behind this specific illustration. It is dedicated to mothers who lost their children during the war. I got the idea when my mom was looking for a black headscarf but did not find any because they were not sold. Moreover, she could not go to church and say goodbye to her son's body because of the war.
The sorrow symbolized by the headscarf consumes everything, even the mothers themselves. This illustration is quite personal, and I usually avoid such openness. However, I felt that I needed to honor the memory of a close person who should not have died now or in a hundred years.
List of Charities
Here's the list of credible organizations to which you can donate money:
Our team is grateful to you for taking some time to check out this article. We hope it gave you some insight into how Ukrainian creatives feel and what the country is going through. We also want to thank once again all these amazing creators featured in this article and all those who help Ukraine in their fight for freedom. Approval Studio team stands with you and we do whatever we can to help too.
Also, check out Part II and Part III of this entry and let us know if you need our help in your charitable projects to support Ukraine.
Слава Україні!